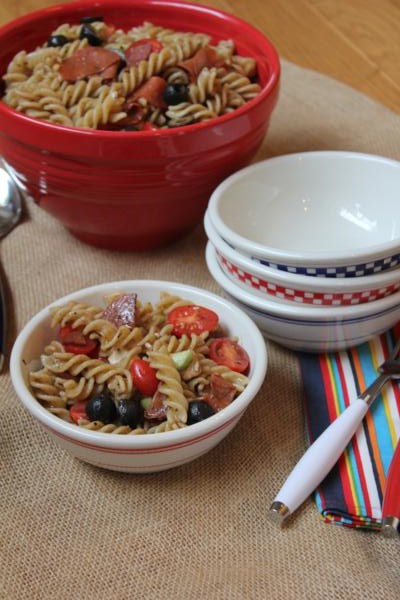 Pasta salad is one of my favorite summertime meals to serve. It is easy to make, doesn't require an oven, and can easily be made ahead.
It is also an easy meal in one that my kids love. And by a meal in one I mean that you don't have to serve anything else with it. Yes, you can serve bread, a green salad, or some melon on the side, but you don't have to.
This salad includes it all. It has pasta, vegetables, meat, and cheese. It is a filling dinner all on it's own.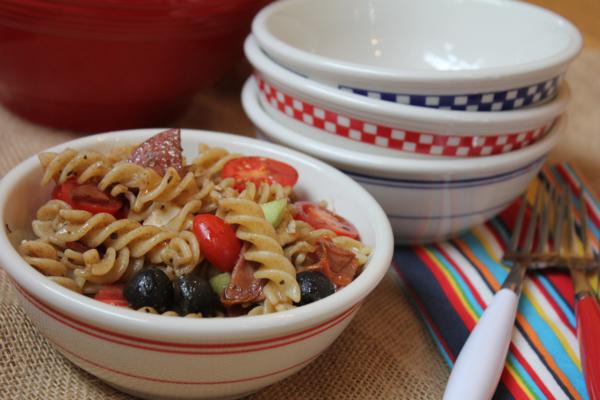 Pasta salad is also easy to make ahead. Last week I doubled this recipe and we had it for dinner one night and lunch for the next two days. All you have to do is stir it all back together before serving it.
This recipe is based on a recipe that I got from my sister several years ago. I have changed it up some, but the dressing part of the recipe is pretty much the same.
This is also the pasta salad that I made and took on vacation with us. When I took it on vacation I left out the tomatoes and cheese. I did not think that the tomatoes would travel well and one of my daughters eats dairy free.
The cheese though is easy to leave out and just add it when you serve it. When I made it last week I just set some aside for my daughter before I stirred in the cheese. That is the other thing I love about pasta salad, it is easy to change up and adapt to fit the needs of everyone.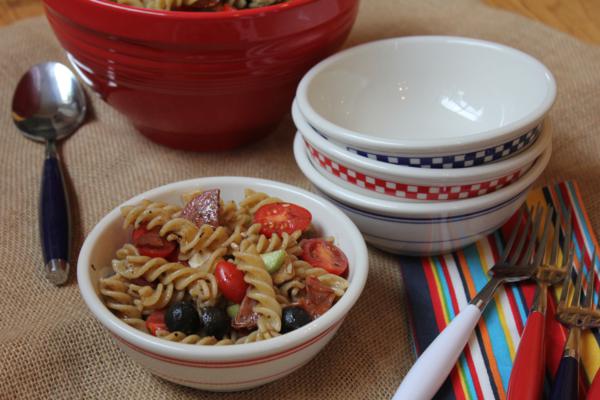 You can really use whatever pasta you want for this. Macaroni works and so does penne. I use gluten free pasta for mine. We have talked about the best gluten free pastas before. If you are gluten free and have not read my post on gluten free pastas be sure to. And be sure to read through the comments on that post. There is a lot of helpful information in the comments.
Here is my current favorite gluten free pasta for pasta salad though.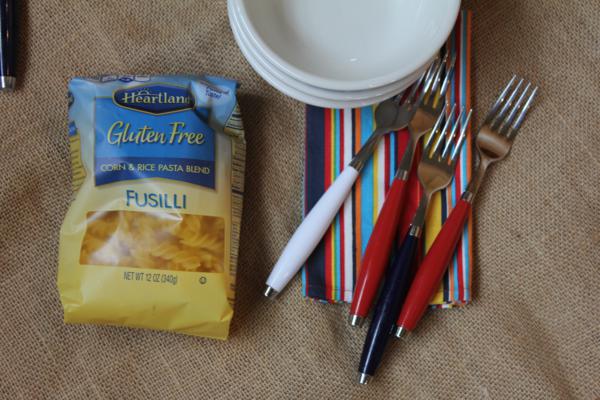 It is Heartland brand and I buy it at Wal-mart. It is only a couple of dollars a package, so it is a good deal for a gluten free pasta. It also holds up well and has great flavor and texture in a pasta salad.
Other gluten free pastas will work fine, but I wanted to share my favorite gluten free pasta for pasta salad. And that is totally not sponsored. I am just sharing a product that I love.
Yield: 8 servings
Summer Pasta Salad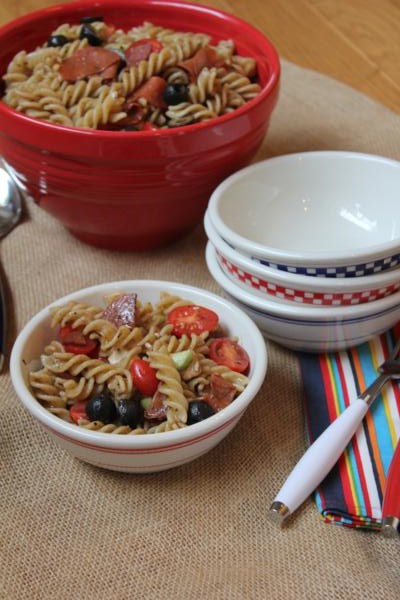 Pasta Salad makes a great summer salad for lunch or dinner. Great for potlucks.
Total Time
2 hours
20 minutes
Ingredients
1- 16 ounce package pasta, I like to use fusilli or penne, cooked according to directions and drained
1 cup cherry tomatoes, halved
1 can - 6 ounce black olives, halved or sliced
6 ounces mozzarella cheese, cut into chunks ( I like to use fresh mozzarella)
5 ounces pepperoni, hard salami, or a mix of both, cut into pieces
1 cucumber peeled, seeded, and cut into chunks
Dressing
1/2 cup olive oil
1/4 cup balsamic vinegar
1/4 cup red wine vinegar
1 1/2 teaspoon garlic powder
1 1/2 teaspoon dried basil
1 1/2 teaspoon dried oregano
1/2 teaspoon sugar
1/2 teaspoon salt
pepper to taste
Instructions
In a bowl whisk together dressing ingredients. Set aside.
In a large bowl combine cooked pasta, tomatoes, olives, pepperoni and cucumber. Stir in dressing until everything is well coated.
Stir in cheese just until combined.
Cover and refrigerate for at least 2 hours.

Nutrition Information:
Yield:
8 servings
Serving Size:
1
Amount Per Serving:
Calories:

460
Total Fat:

30g
Saturated Fat:

8g
Trans Fat:

0g
Unsaturated Fat:

20g
Cholesterol:

35mg
Sodium:

727mg
Carbohydrates:

33g
Fiber:

3g
Sugar:

3g
Protein:

14g