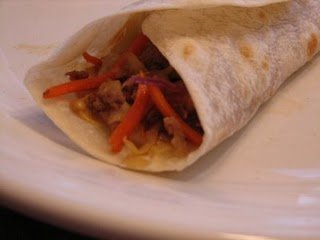 When I saw a recipe last week for Thai Tacos I knew it was one that I wanted to try. It sounded like something our family would really enjoy.
I tried it last night for dinner and it was so good. I do not know how authentic this recipe is but it definetely has an Asian flavor. All three of my kids loved this meal. I liked it because it tasted good but also because it can be made in about 20 minutes.
So, if you like Asian food give these Thai Turkey Tacos a try.
I followed the recipe except that I used dry ground ginger instead of fresh. I also used ground pork becaue I have a lot of ground pork. We thought it was good but I am sure turkey would be good also.