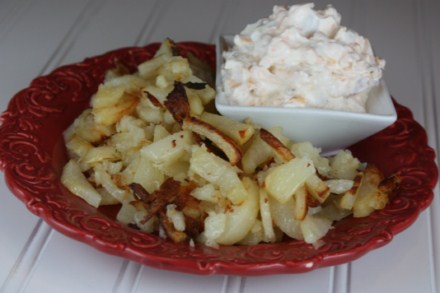 When I saw this recipe a few months ago in a Southern Living magazine at my husband's office I knew I had to try it. I may just have stole borrowed the magazine so that I could try it.
I think the reason this recipe caught my attention is that I love potatoes. (I think I already mentioned that this week.)
One of my favorite ways to eat potatoes is twice baked potatoes, and this recipe contains the basic ingredients for a twice baked potato. Well, minus the potato, but the potato is what you dip into this.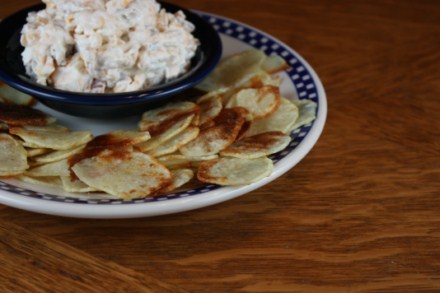 When I made this we ate it with my oven fries and also with homemade potato chips, but this would work for just about any chip and dip type item, not just potatoes.
And this is not a recipe I recommend eating everyday. It is not exactly healthy after all, but it is good, so good.
This would be a good dip to make as an appetizer or to serve for a large group of people.
Twice Baked Potato Dip
1/3 lb bacon cooked and chopped

16 ounces of sour cream

2 cups shredded cheddar cheese

2 teaspoons hot sauce
Combine all ingredients and stir well.
Cover and chill for a few hours.
Serve with french fries, potato chips, or other dip and chips type food.