It is Monday and what better day than Monday for a keeping it real post.
As I have mentioned over the last few weeks, we have been missing baked goods in our house. With all our food issues, homemade food is a must. And I really needed to get some things made for the week.
I decided that today was the day to bake. I wanted get a few things done early before it hit 110+ degrees outside.
So, despite the really hot weather and a really busy morning, I was determined to spend some time in the kitchen.
Really busy days and working in the kitchen do not always go well together. I should know this by now.
See the beautiful muffins I made. They look so nice and chocolatey and oh so good.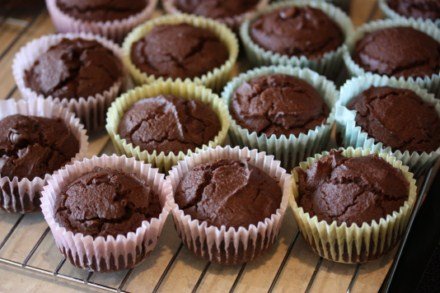 Well, looks can be deceiving……
I forgot the sugar. Left it out completely. There is none at all in them. Oh and I should also mention that the recipe had 3/4 cup of baking cocoa in it. Yeah, not so great a combination.
I see a trifle in our future. Maybe covering them up in sugary layers of pudding will help cover up their lack of sugar.
This is why multi-tasking is not always a good thing. And why even experienced cooks have disasters.
I hope your Monday is off to a better start than mine.