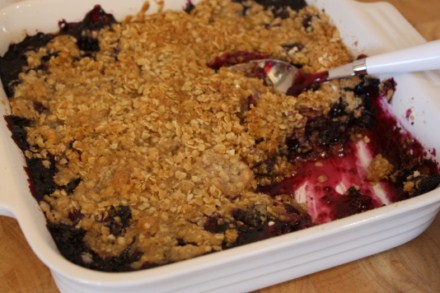 Summertime is the perfect time for blueberries and what better to enjoy them than Blueberry Cobbler.
All I did for this recipe is simply use my strawberry cobbler, but I used blueberries. I used sorghum, rice flour, and potato starch  in place of the flour, but I have also used a gluten free flour blend here and it worked fine as well.
This works well with either fresh or frozen blueberries. I have used both.
Gluten Free Blueberry Cobbler
4 cups blueberries
½ cup sugar
2 tablespoons cornstarch
¾ cup brown sugar
¾ cup gluten free quick cooking oats
1/4 cup rice flour
2 tablespoons sorghum flour
2 tablespoons potato starch
½ cup butter
In a bowl toss blueberries with sugar and cornstarch.
In a separate bowl combine brown sugar, oats, and flour. Cut in butter until mixture is crumbly.
Place blueberry mixture in a 8×8 dish.
Sprinkle the oat flour mixture over the top of the blueberries.
Bake at 350 for 25-30 minutes.
Serve with ice cream or whipped cream.