Last month when I visited my family in Oregon, I had the opportunity to visit Bob's Red Mill.
I have been to the Bob's Red Mill Store before. In fact, I have been there many times. I grew up in the Portland area and remember my best friend's mom and sister going there in the early 1990's to purchase flour and other products from them.
And I have visited Bob's Red Mill almost every time I have visited Oregon over the last seventeen years. In fact, the few times that we have driven out to Oregon, I have hauled back several hundred pounds of grains to Oklahoma. I have even met Bob of Bob's Red Mill a few times on my visits.
Yes, I think you can say that I love Bob's Red Mill.
This last trip out to Oregon though I was able to do more than just visit the store. I got a behind the scenes tour of the mill and what goes on. I was thrilled to be able to see how they process and grind their products. And I was excited to see how they process and keep their gluten free products safe and truly gluten free.
My first thought when I entered Bob's Red Mill was what a great company it must be to work for. You could instantly tell that the employees loved working there and cared about the company. And they should care because Bob's Red Mill is an employee owned company. The employees truly do care about the company and the quality of the product they produce because it is their company.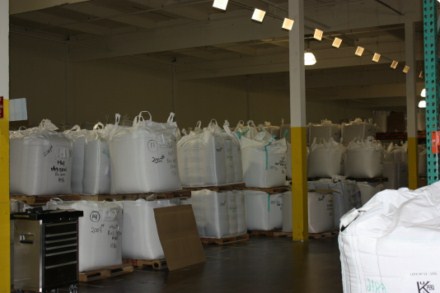 My sister Flora joined me for the tour. As we toured the mill we both kept thinking, "Wow that is a lot of grain." And it is a lot of grain.
In 2010 about 60 million lbs of grain went through Bob's Red Mill. Not only that, but they had about 12 million lbs of other products go through the mill. That is about 125,000 packages a day. That is a lot of whole grain healthy products!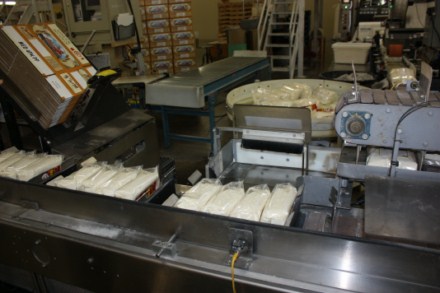 It was very interesting to see how efficient they were with the whole process from the grinding to the packaging.
Bob's Red Mill turns over 90% of their product every three weeks. I love this fact. This means that their products are not sitting around in a warehouse for months and months. They do their best to get their product to the consumer as soon as possible.
They also continually test their products in a lab and test kitchen to make sure they are up to the standards that their consumers expect.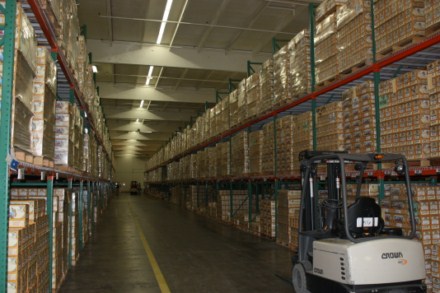 The part of the tour I really enjoyed was the gluten free area. Several in my family eat gluten free, so finding high quality, good tasting gluten free products is important to me.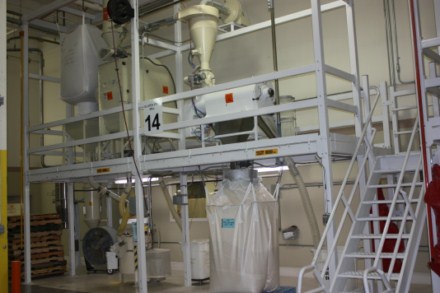 Bob's Red Mill has a totally different section where they process their gluten free products. It has a different ventilation system and they keep everything separate. They test the gluten free products multiple times throughout the time that they enter and leave the mill to be sure they continue to stay gluten free and safe. And they have a totally different lab, in a separate area, where they do all the gluten free testing. They really do care that their products are what they say they are. They take gluten free seriously.
They sell about 70 gluten free products that are certified and tested gluten free.
And they sell over 400 products under the entire Bob's Red Mill brand.
The Bob's Red Mill website has a few video tours of their mill that are fun to watch if you are interested in more about their company and products. And if you live in or ever visit the Portland, OR area I encourage you to visit Bob's Red Mill.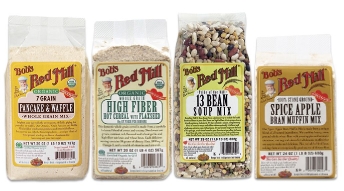 Now for the giveaway! GIVEAWAY OVER!!!!
Bob's Red Mill is giving away a gift pack to four of my readers. Each gift pack will include four items of the winners choosing. (The items can range in size from an 8 ounce package to the 32 ounce package size. So, basically any of the small prepackaged sizes that you find on your grocery store shelf.) What I love about this giveaway is that you get to choose. So the winners will have a chance to pick products that they have wanted to try. And if one of my gluten free readers wins they will be able to choose from any of the gluten free products.
This giveaway will end Wednesday July 20, 2011. Four winners will be chosen.
To Enter:
Leave me a comment. That is all you have to do, but I would love to hear what Bob's Red Mill product you love or what product you have been wanting to try. (One entry per person, please.)
For more questions and details please see my giveaway policy.
Disclaimer: Bob's Red Mill sent me a sample pack of their gluten free products to try after I toured the mill, however, I have loved and used their products for years. I contacted them about touring the mill, they did not contact me. They did not pay me for my time or thoughts. My thoughts and opinions are my own. I truly think they are a great company that produce great products.