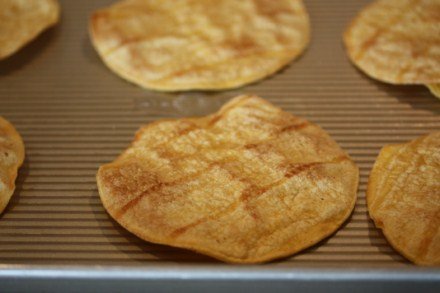 I mentioned last week that I was joining with a few other bloggers this month on a pantry challenge. My goal was to help clean out and use up some of the food that has been sitting in my freezer and pantry for too long.
This challenge has been good for me. It has made me think a little outside the box and has forced me to get creative.
Last week I planned on serving Mexican Pizzas for dinner. I was sure that I had a few tostada shells in the pantry, but when I went to find them I realized that I did not have any. (Hopefully this pantry challenge will also force me to clean out and organize my pantry so that I know what I have.)
Instead of changing the menu plan, I decided to make due with what I had. I had several packages of corn tortillas that I keep on hand to make quesadillas for lunch. I knew I could easily make these tortillas into a tostada, because basically a tostada shell is just a crisp tortilla.
I knew I could fry the tortillas in oil, but instead of taking the time to fry the shells I decided to bake them in the oven.
I baked them at 400 for about 8-10 minutes, turning them once until they crisped up.
They turned out perfectly. In fact, my husband and kids thought that they tasted better than the store bought ones. They also thought that it was easier to eat the Mexican Pizza because the homemade tostada shells did not fall apart as easily.
I really wish that I had tried this trick before now. Tortilla shells are much cheaper than tostada shells and I almost always have tortillas on hand for things like quesadillas and taquitos. This is definitely something I will be doing again.
Sometimes we need to think outside the box when it comes to cooking. Using what you have and making do with what is on hand not only saves you money, but it often creates new family favorites.