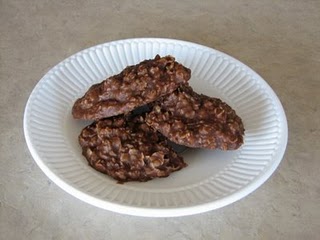 This time of year when the weather is hot, I try to avoid turning on the oven. We still enjoy having desserts and cookies though. This recipe works great for times like that.
I know there are many versions of no bake cookies out there. These are my favorite. We made it often when I was a kid. I think it was the first cookie recipe I learned to make. It is a great recipe for kids to try because it does not use the oven, just the stove top.
I enjoy having a quick, easy, and good cookie recipe that does not heat up the house by turning on the oven. When it is 90 plus degrees out the last thing I want to do is turn on the oven and add more heat to the house.
This recipe also does not cost much to make since it contains simple ingredients that I usually have in my pantry.

No Bake Chocolate Cookies
2 cups sugar
1 cup butter
½ cup milk
4 tablespoons cocoa
1 teaspoon vanilla extract
3 cups quick cooking oats
⅔ cup peanut butter
Bring first four ingredients to a boil and cook 1 minute.
Add vanilla, oatmeal, and peanut butter and stir until combined.
Drop onto wax paper and cool.
Remove from wax paper and enjoy!