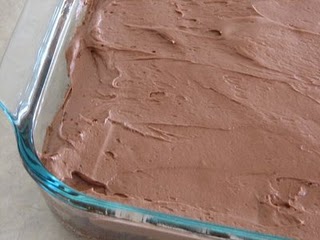 I am taking Chocolate Zucchini Cake to a church dinner tomorrow. I don't usually frost this cake, but since I am taking it somewhere I decided to splurge and frost it. Like most things, I have several frosting recipes that I use. It depends on what cake it is, which frosting I use.
The frosting I used tonight is by far the one I use the most. It is a no fail, quick, and easy frosting. And it is good on just about any cake. It will make a simple box cake seem homemade and wonderful. The recipe came from the cookbook "The Cake Mix Doctor." But I have seen this recipe a lot of different places.
If you need a chocolate fix give it a try. And if you have just a little left over, try it spread on graham crackers. It is a great way to use up a little bit of frosting.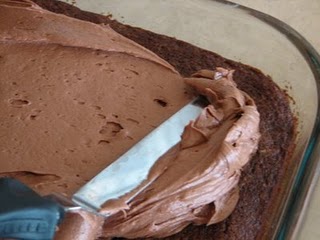 Chocolate Frosting
1/2 cup butter, room temperature
8 ounces cream cheese, room temperature
1/2 cup baking cocoa
1 teaspoon vanilla
4 cups powdered sugar
Place butter and cream cheese in a mixing bowl beat until combined about 1 minute. Scape down the sides and add cocoa and vanilla mix until combined. Add powdered sugar and mix until well combined. I beat for a couple of minutes. I think the texture is lighter if you beat for a few minutes. Frost cake and enjoy!