This recipe came from my husband's grandmother. She made it for years. I got the recipe quite a few years ago and I have made it many times since. This is a great holiday or special occasion cake.
I usually make it in a regular bundt pan, but for the Christmas party I chose to make it in small bundt pans. I prefer to serve small portions of things. This way everyone can have a small piece of everything. I purchased this stoneware pan when Pampered Chef had them on the outlet a few months ago. (I checked and they still have them in the outlet ) This pan is going to be great for my office parties.
This recipe is also great for seasoning a brand new Pampered Chef Bundt Pan. It seasons it really well because of the butter sauce.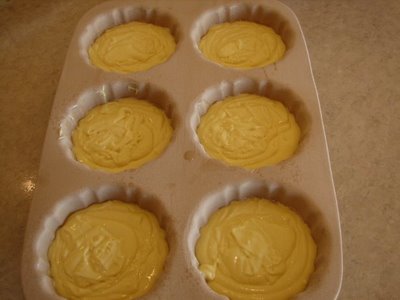 I hope you enjoy the cake.

Butter Rum Cake
1 Butter cake mix
1 small box instant vanilla pudding
1/2 cup oil
4 eggs
1 cup water
1 teaspoon rum flavoring
Mix all ingredients together. Mix for about two minutes or until well combined. In a regular bundt pan, bake at 350 degrees for 45-50 minutes. In the small pans bake for 35-40 minutes. Leave cake in the pan for the next step.
During the last 10 minutes of cooking time make the butter sauce.
Sauce
1/2 cup butter
1/3 cup water
1 cup sugar
3/4 teaspoon rum flavoring
In a pan combine butter, water, and sugar, boil then turn to low to simmer. Cook until butter is melted and sugar is dissolved. Remove from heat and add rum flavoring. Slowly pour over hot cake that is still in pan. You do this step as soon as the cake comes out of the oven. Pour slowly or it will not fit in the pan. Pour a little and wait a few minutes for it to absorb into pan, than continuing this until all the sauce is in the pan. Let cool completely before removing cake from pan. This lets the sauce soak into the cake. Remove from pan onto a platter and serve.