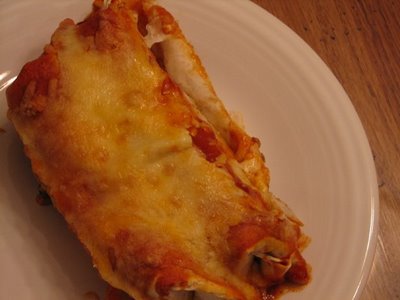 A few weeks ago I posted about my Three Cheese Chicken Enchiladas. Some one left a comment that they had tried it with beef and it was really good. I love getting comments like this. I love to hear how you like my recipes. I also enjoy reading what you changed and how it turned out.
I had thought of using beef, but had not tried it. Since someone else had and said it was good I really wanted to make some. I had some tortillas that needed used up and I had some cream cheese left over from my office party cooking. I decided to make the Three Cheese Enchiladas using beef.
I am so glad I did. They were really good. We all enjoyed these. Again I know that these are not authentic, but they are good. I hope you enjoy them.
Three Cheese Beef Enchiladas
1 1/2 cups shredded jack cheese
1 1/2 cups shredded cheddar cheese
3 ounces of cream cheese softened (I know that this is not authentic but it made them really creamy and good)
1 19 ounce can of red enchilada sauce
2 cups of cooked ground beef
8 to 1o flour tortillas
Combine 1 cup of jack cheese, 1 cup of cheddar cheese, cream cheese, 3/4 cup (or so) of enchilada sauce, and beef. Mix until well combined. Pour about 1/4 cup of enchilada sauce into a 9×13 pan and spread it around. Than place about 1/4 cup of filling into each tortilla shell ( I just guessed on the amount here, it may have been 1/3 cup). Roll up and place in pan. Pour remaining sauce on top and sprinkle with the rest of the cheese. Bake at 350 for 25 minutes or until heated through.