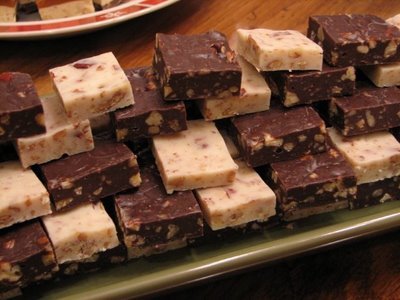 This candy was really good. It was very easy and it was a little fudge like. The toasted pecans give it great flavor, so don't skip that step. I made it with both white and milk chocolate. These are rich and this recipe makes a lot, so you may want to half the recipe.
Velvety Pecan Candy
3 cups of chopped pecans
1 1/2 lbs of white or regular chocolate
1 can sweetened condensed milk
1 teaspoon vanilla extract
Preheat oven to 350 degrees. Bake pecans in a single layer in a shallow pan until toasted. This takes about 8-10 minutes. Stir after about 5 minutes and keep checking and stirring, so that they do not get over done.
Line a 15×10 inch jelly roll pan with waxed paper. Lightly grease the wax paper. Place chocolate and sweetened condensed milk in a bowl and microwave. It took about 3 minutes and I stirred it every 30 seconds. When melted, mix well to combine. Stir in toasted pecans and vanilla. Spread onto wax paper and chill until set, about 2 hours. Turn candy onto cutting board and cut into squares. Serve.

For more great Holiday desserts see
The Happy Housewife
. And for a great recipe swap see
Grocery Cart Challenge
.