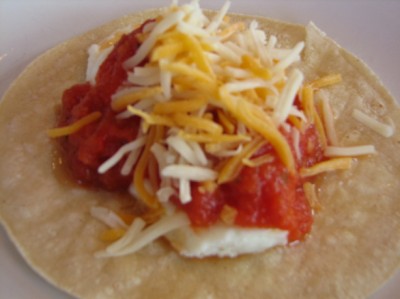 I was having a conversation with a friend of mine about making Huevos Rancheros. This is the same friend that lived in Mexico and gave me my enchilada sauce recipe. I was telling her how I had made my Huevos Rancheros and she said that is was basically the American way.
I had been making a tomato type salsa sauce, but I was cooking the eggs in that sauce. Well, she told me in Mexico,, she never saw the eggs cooked in the sauce. They were cooked separate and then served together on a tortilla.
I was glad to find this out because I had never really liked Huevos Rancheros very much. Mainly because I thought the texture of the egg was strange. I thought I would probably like it much better if the egg was cooked separate, because then the egg would have the texture of, well, an egg.
I guess the American way is kind of the lazy or easy way of cooking it, but it is not the authentic way.
My friend emailed me her version of Huevos Rancheros, which is more authentic. Canned tomatoes are not very authentic because in Mexico they have fresh tomatoes always available. Here in America, good, fresh tomatoes are not always available, so her version called for canned and I think it works great.
We loved these and have eaten them several times. This makes a great breakfast, but also a frugal dinner.
Here is my friend's recipe for the salsa and the directions to put together the Huevos Rancheros.

Huevos Rancheros
16 oz can tomatoes in juice (not stewed)
1 jalapeno, or to taste (one is usually just right if you leave out the seeds)
1/4 onion
1 clove garlic
1 t caldo de pollo powder ( Mexican chicken bouillon)
a few sprigs fresh cilantro, stems removed
Puree in blender until smooth. Heat in covered saucepan until it comes to a boil. Set aside. Fry all eggs (very soft yolk is authentic) and heat corn tortillas simultaneously. Assemble on plates. Sprinkle with a little cheese, if desired.
I now double this amount for our family. If each child only wants a few spoons of sauce, this amount works fine. The authentic way is to have everything well covered in salsa.
How do you cook Huevos Rancheros?
For more recipes and ideas see $5 dinners and Tempt My Tummy Tuesday.