I decided to post this measuring cup for my favorite kitchen tool this week.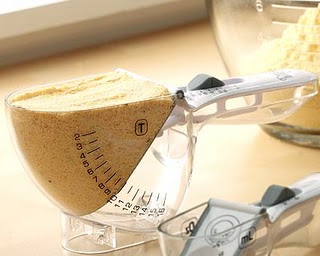 I have an old version of the measuring cup. It came from Pampered Chef. I keep my all purpose white flour in a large tupperware container. In my flour I keep, or I should say kept, this measuring cup. Mine recently broke. That is why the picture came off the pampered chef website. I could not show you a picture of mine. Well, I could have but mine is in two pieces that no longer stay together.
Now that mine is broken I realize how much I loved having it in my flour container. Since it is adjustable I never had to dirty another measuring cup when baking things. It has such a large range of measurements that I never needed anything else unless I just need 1 tablespoon. I really miss mine, can you tell. I did not know how much quicker this made measuring until it broke.
I do not want to pay shipping from the Pampered Chef website just for this small item. Shipping will probably cost me almost as much as the item. So, I guess I will just have to wait for someone I know to have a Pampered Chef party. And in the meantime I will be getting lots of measuring cups dirty. 🙂
For more great tools see Life As Mom.