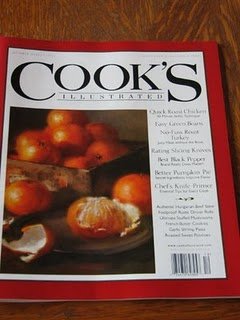 I wanted to post about a few random things.
1. In case you were wondering, I did get me house cleaned. I spent all day Saturday cooking, cleaning, and ironing. I am so glad I finally had time to tackle those jobs. Blogging about it motivated me to get it done, even if none of you cared to read about it.
2. Update on the Artisan Bread in Five Minutes, if any of you are planning on making the Challah dough recipe that is in the book here is a tip. I think that dough is best used in the first couple of days. I made some up last week and tried to use it on day five. It had a strong sour taste. It was not bad but definitely not as good as it was when I used it in the first day or two. I love this recipe in general but use the dough within a few days on the challah recipe. It made great bread and cinnamon rolls and I will make it again, but I wanted to be sure to pass that tip on to anyone wanting to make it.
3. Thanks to Mari posting about how much she liked my Chocolate Toffee Pecan cookies, I found out about a recipe contest. Bass Pecans is having a recipe contest for recipes containing pecans. I entered it and my cookie recipe was chosen for the recipe of the week. Thanks Mari, and I am glad you liked my cookies!
4. I love Cook's Illustrated and Cook's Country magazines. I subscribe to both of them. Saturday I received my newest copy of Cook's Illustrated. It is the November/December issue. Hello, Cook's Illustrated do you realize it is still September! What is it with magazines sending out the issues two months in advance. It is still warm and sunny out. I do not want to be thinking about Turkeys and Christmas. Okay, sorry, I just had to complain about that. Now, I will set my issue aside and bring it back out in a few weeks when I am in the mood for holiday recipes. Do other magazines do this or just Cook's Illustrated?