I thought I would try something fun and different today and give you a look at my life that doesn't usually make it on this site. If you follow me on Instagram you might recognize some of the above pictures. Instagram is where I tend to post random pictures of everyday life. Things I don't have time to post here or that are not food related.
I know a lot of you don't do Instagram, so I thought I would put together a collage of some of my Instagram photos from July. I thought it might give you a little different look into my life than you normally see here. If you all like this idea and would enjoy seeing more posts like this, leave a comment letting me know and I will try to do them once a month or so.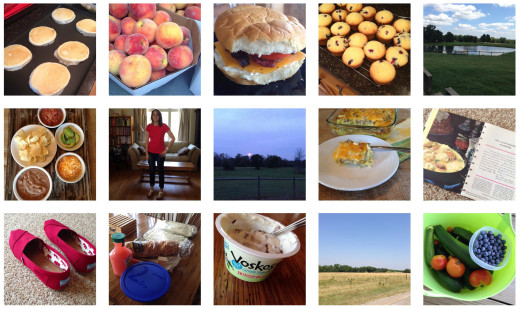 Top Row:
Saturday morning breakfast.

Fresh from the orchard peaches.

My son made himself lunch which was a BCT, a bacon cheese and tomato sandwich. Why have lettuce when you can have cheese. 🙂

Gluten free blueberry muffins made by my daughter.

The view from my kitchen. A view I will never get tired of.
Second Row:
A photo shoot for my website.

A picture of me. On Instagram I mentioned the ankle length pant being odd when you are 5 foot 10 and have spent a good portion of your life wearing pants too short. I love the fit of the pants, I am just not sure about the ankle length. Anyone else feel this way about ankle length pants?

View from an evening run.

New recipe using my gluten free baking mix that I will share soon on GF Mixes.

Old cookbook I bought. Have I mentioned I LOVE old cookbooks?!
Third Row:
New red Toms shoes. I wore my old black pair out and because my daughter says all I wear is brown and black, she suggested I add color to my closet. 🙂

Made lunch to take to my husband's office.

Greek yogurt and homemade granola is a new favorite lunch or snack.

Another picture taken on an evening run.

Fresh picked produce from our garden.