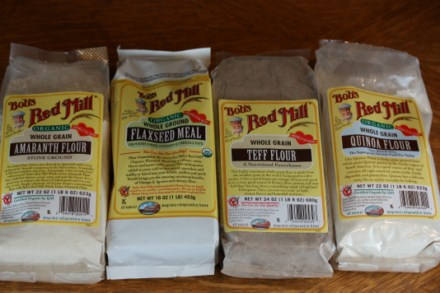 A few months ago I shared that one of my goals for this year was to experiment more with healthier gluten free flours and so far I have used them quite a bit.
However, I still have mixed feelings about them and so far I have not had a recipe that I feel is worth sharing. I did make the quinoa crepes, which my family loved, but besides that I am still working on getting the right ratio of how much of these flours to add to recipes.
I have experimented with adding them to my pancakes, waffles, homemade pizza crust, and a few other things. I am finding that there is a fine line in most things between adding enough to make them healthier and not so much that the taste is over powering and the texture suffers.
I love my gluten free baked goods to taste close to the real thing. That is one of my goals with gluten free baking. If I can make a gluten free muffin, pancake, or other item taste so good that my family cannot tell the difference I am very happy.
Before I was gluten free I used a lot of whole wheat flour, so my family is used to eating healthier whole grains, but I am finding that the teff, amaranth, and quinoa flours have a much stronger taste than whole wheat flour. They also make for a much heavier end result and they end up tasting much different than the original version.
I am not giving up though. I am going to continue to experiment with them and will continue to work on coming up with some healthier versions of our favorite gluten free foods.
I would love to hear any tips you have for using the healthier gluten free flours. What are your thoughts about them?