I know I have said it before, and I doubt it will be the last time that I say it, but I love potatoes. I love them mashed, I love them in potato salad, I love them scalloped, I love them twice baked.
What can I say I was born and raised in the Pacific Northwest, so potatoes are just part of me and the food I grew up eating. I could eat them every day.
And one of my favorite ways to eat them is to fry them. Who doesn't like good fried potatoes?! They are one of the best comfort foods.
Fried potatoes can be challenging though. Fried potatoes should be crispy on the outside, yet perfectly done on the inside.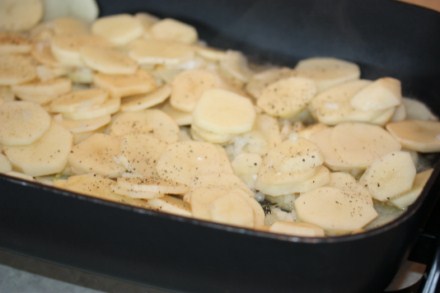 And that is where the challenge lies. Turning your potatoes too much while frying them will prevent them from browning and will cause them to break up. If you don't turn them enough, the potatoes will over brown or even burn, but will not cook in the middle.
See those crispy browned edges?! That is what you want. That is the good part.
Fried potatoes are one of those things that with a little practice you can perfect. And once you have them down, you will have a quick and easy meal, or side dish, that is inexpensive to make and that your family will enjoy.
Today's recipe though is a fried potato recipe that is basically full proof. This recipe comes from the cookbook Miss Mary Bobo's Boarding House Cookbook
. Like the cookbook I shared last week for my cooking through my collection, this is a regional cookbook that is full of down home every day type recipes.
And the skillet potatoes from Miss Mary Bob's cookbook are some of the easiest and best fried type potatoes that I have had.
Her secret is water. Why I had never thought of it, I am not sure, but it makes for fried potatoes with the best texture. You are basically frying them, but you add a little water to them and cover them, which helps steam and cook them.
This gives them the best texture. Perfectly browned and crisped on the outside, yet perfectly done on the inside.
Delicious!
Yield: 8 servings
Skillet Potatoes
Old fashioned skillet fried potatoes.
Ingredients
1/2 cup butter
8 to 10 potatoes, peeled and thinly sliced
1 large onion, diced
1 green pepper, diced ( The day I took the picture from above, I did not have a green pepper, but green pepper is really good in this.)
salt and pepper to taste
1/2 cup water
Instructions
In a large skillet or pan, you may want to half this if you have don't have a large pan. ( I used my electric fry pan) melt the butter.
Add a layer of potatoes and a layer of onions and peppers.
Sprinkle with salt and pepper.
Layer more potatoes, onions, and peppers.
Sprinkle with salt and pepper.
And layer again with potatoes, etc. I usually do 2 layers, but this may depend on your pan.
Add water and cover pan. Cook over medium to medium low heat for 35 minutes. You will want to flip these potatoes once or twice while cooking. You want to turn them not stir them. You want them evenly browned on both sides.
Serve and enjoy!
Nutrition Information:
Yield:
8
Serving Size:
1
Amount Per Serving:
Calories:

314
Total Fat:

12g
Saturated Fat:

7g
Trans Fat:

0g
Unsaturated Fat:

4g
Cholesterol:

31mg
Sodium:

151mg
Carbohydrates:

48g
Fiber:

5g
Sugar:

4g
Protein:

6g
Nutritional values are approximate and aren't always accurate.