I have not participated in a Show and Tell Friday for awhile, so I wanted to do so today.
Last October I posted about going to Texas to pick up a few pieces of furniture that were my husbands grandparents. I posted about the tables that we got, that by the way are still sitting in my garage because I can't decided quite what I want to do with them.
Today though I thought I would post about the dressers we got from his grandparents. I love old dressers and chests of drawers. If you can find them in good condition they are so much better then modern ones. They have character and I like that. It is hard to find ones though that are in good condition. I was so glad to find that these ones are. They have some wear, actually lots of wear, but they are still sturdy and have been well taken care of.
I will say though that people had a lot less clothes 75-100 years ago. Although these dressers are pretty they do not hold enough stuff in my opinion. The drawers are very shallow compared to what we are used to today. Also the depth and width are not very big. I ended up not putting any of my husbands clothes in these. I could only fit 4 pairs of pants in each drawer and his shirts got all scrunched up in them. So, I decided these would work for my stuff for now. I love the look so it is worth having a little less space.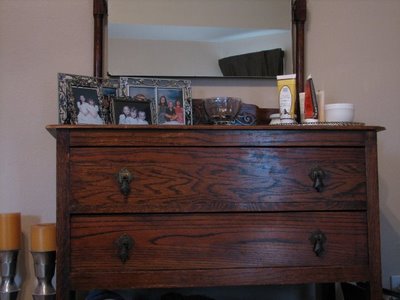 The mirror on this one is in especially good shape for the age. I am glad because I love the mirror on it. It makes it look a lot nicer.