I decided to participate in Antique Thingies Thursdays and Show and Tell Friday this week. I wanted to use it as a chance to talk about one of my favorite vintage items and it works for both of them.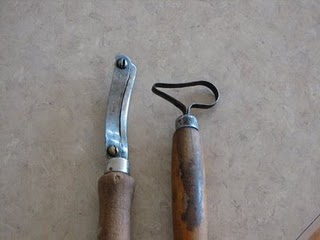 Do you have any guess what these tools are used for?
These two tools came from my grandmother. She had several sets of them, and I was I able to have one of the sets when she passed away.
My grandparents got these tools when they worked at a cannery in Oregon. My dad thinks that they worked at the cannery in the early to mid 1940's. My grandfather did maintenance at the cannery. My dad thinks my grandmother also worked there, probably working with the produce around the same time.
So, what are they for? Pears. The northwest grows a lot of pears, so pears would have been a popular item for the canneries to process. Here is how they work.
This one peels like this.
Then this one cores the pear.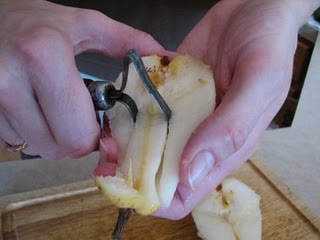 See how great it works. The pears come out looking so nice.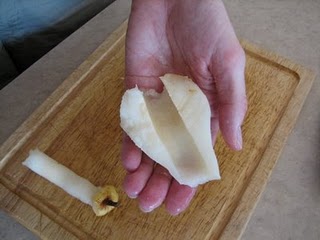 I rarely use these tools. The first reason why is that we don't eat fresh pear very often. Oklahoma is not exactly pear growing country, and pears are expensive in the store.
Second and more important, these tools are old and a little rusty. I have oiled them and cleaned them up a little, but I want them to stay as nice as possible. I want to have these tools for many more years. Each time I see them I think of my grandmother and my mother. My mom has a set just like this. For years she used them when canning pears. Friends of ours from church had huge pear trees, and each year we would go pick the pears. My mom would spend the next several days canning them. I can still picture my mom using these two tools. She still has her set and I am sure she still uses them.
These simple tools have been around for many years and I hope they will last for many more.
Have you ever seen anything like them before?
See Update here. You can still buy these.
I posted this last week but decided to link to it again for Toolin It Up Tuesday. For more tools see Life As Mom.