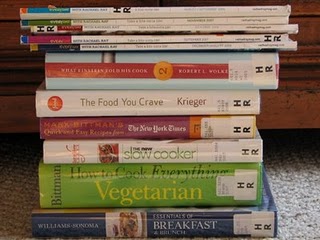 We went to the library last Friday. The library we went this time is a lot larger than the one we normally go to. I love this library because they have a large cookbook and magazine section. My kids love it because they have a huge children's section. I know we can request books through their online system but there is something about seeing books on the shelf in person. I just enjoy it more than looking through a list online.
So, here is a list of what I ended up getting. I hope that I can get them all looked at before they need to be returned. My problem with cookbooks is that I read them like you would a book. I really have trouble just scanning cookbooks. So, I doubt I will make it through this pile before they have to go back. I guess I can always check them out again.
I picked up several Rachael Ray magazines. I like her magazine for the recipe ideas and tips, but I wish she would stick to food. I think there is too much other stuff on fashion and non cooking subjects.
I also picked up a book called "What Einstein Told His Cook". I am not sure if this book will be good or not. It talks about some of the science behind cooking, like why onions make us cry. It also deals with some of the myths about food. For instance it talks about whether or not brown eggs are healthier than white and if rip bananas really get sweeter and get more calories as they ripen. I think I should at least find some interesting facts in this book.
"The Food You Crave" is by Ellie Krieger and is put out by the Food Network. It is Luscious Recipes For A Healthy Life. This book caught my attention because I am trying to eat healthier. Maybe this book will inspire me, at least a little.
I picked up two books by Mark Bitmann. I love his cookbooks. I have checked out the Vegetarian book before and I really liked all the facts it had in it. I wish this book was not so expensive. If I ever find this book on sale, I will probably buy it. It contains so many facts about foods and he tells you the best way to cook them. I hope his book "Quick and Easy Recipes", that I also got, will be just as good. It looks like it will be.
I love Taste of Home's stuff. The book I got this time was "The New Slow Cooker". This looks a lot like a book they published a few years ago, so it may just be an updated version. I hope not. I am hoping to find some more crockpot recipes in it.
The last book is a Williams Sonoma Breakfast book. I doubt I will cook anything out of this one but the photography is really pretty. So, at least I will enjoy looking at it.
Have you read or looked through any of these books? If so what did you think of it? Have you found any good cookbooks lately? I love hearing about new cookbooks to look at, so leave a comment if you have any suggestions for me.