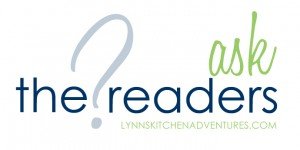 I will freely admit that today's Ask the Readers question is a tough one for me and one I never thought I would deal with on this site, but it is a question I had to post, because it could have easily been me asking this same question about ten years ago.
I have endometriosis and am looking for more information (and especially recipes!) that help others with this condition. I recently recovered from a miscarriage and am trying to get my body healthy for another pregnancy. Help is appreciated!!
I was asking those same questions not all that long ago. I had/have endometriosis. I struggled with infertility. I know the pain both physically and emotionally endometriosis and infertility causes. I know it all too well.
Several years ago I shared some of my story over at Amy's Finer Things, so I won't repeat it all here, but I did want to share this question and share a little of my story.
In my quest to help my endometriosis I tried many things. My husband endured some strange diets and foods during those years and I really cannot say that any of them worked for me. I know they have worked for a lot of people, but for me I saw no real change with anything I tried.
What I think worked and helped me function during those years was to stay healthy overall. Eating right, exercising, and maintaining a healthy weight is what I think helped the most. I also took vitamins and a few other natural things like evening primrose oil, but trying to stay healthy overall was what I think what helped me eventually have three kids and put off major surgery.
Looking back now, and at my history, I personally wish I had tried the gluten free diet years ago. It may not have helped, but it is one of the things I never tried during that time, that I really wish I would have.
And with that being said, I had major surgery and still have problems. There are days I still deal with a great amount of pain and that is now, when I am on a gluten free diet. So, although I wish I had tried gluten free for my endometriosis year ago, I doubt it would have been the "cure" for it, since it has not been now for me. It may have helped me, but I don't think gluten free eating would have taken it away.
So, my answer to this question is not an easy one, because I don't think there is one thing that helps it by diet alone. My thoughts are to stay healthy overall and try to stay positive. A positive attitude goes a long way in how we feel.
Now, I know some of you have dealt with or are dealing with a similar issue. What are your tips and advice for dealing with endometriosis? Have you found a diet or food that helped you?
Note: I am not a doctor. These are my thoughts and my story. The comments left on this subject are the thoughts and stories of others. If you are dealing with these issues please consult the advice of your doctor. Disclaimer over.