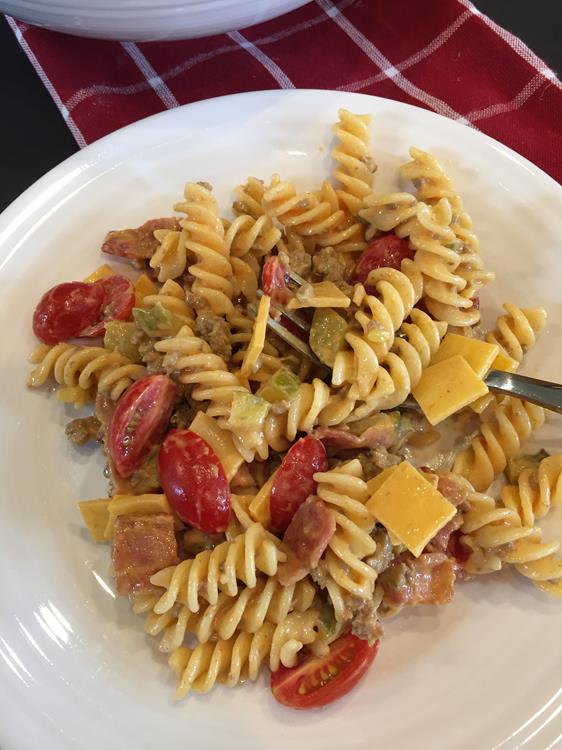 Pasta salad is one of my favorite easy dinners for spring and summer. I love that you can customize it to contain just what you want it to. I also love that is can be made ahead to make lunch and dinner easy.
My kids love pasta salad. When I make it I often double the recipe and we eat it for lunch for several days. It makes a great easy lunch that everyone loves.
Bacon Cheeseburger Pasta Salad is a recipe I came up with recently. I wanted to make pasta salad, but I wanted something a little different. This salad ended up being just what I wanted it to be. It was a little different than your normal pasta salad and it was delicious! This will be on the menu plan often this summer.
If you love pasta salad this is a must try! It is also easy to make gluten free with gluten free pasta.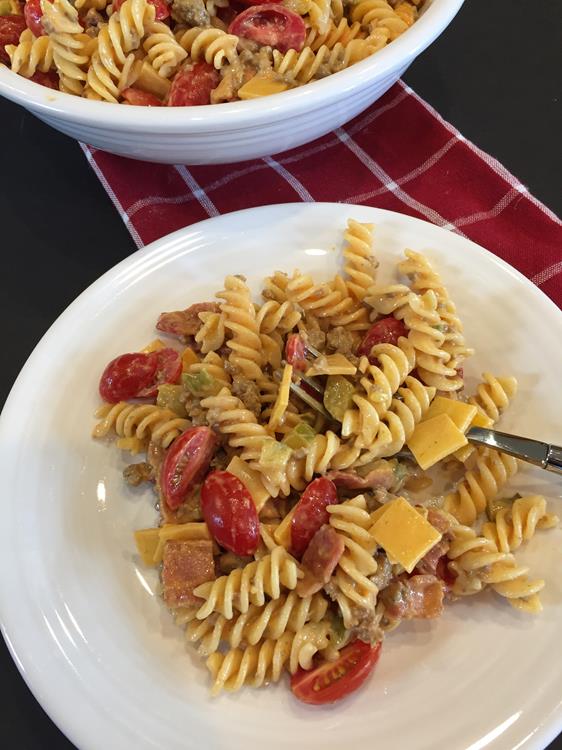 Bacon Cheeseburger Pasta Salad
For the dressing:
1/4 cup yellow mustard
2 tablespoons bacon grease reserved from cooking bacon ( or use oil)
1/2 cup ketchup
1/4 cup mayonnaise
2 tablespoons pickle juice (or use white wine vinegar)
For the dressing whisk together all ingredients until smooth and well combined.
Set aside.
For the salad:
1 pound ground beef that has been browned and cooked thoroughly, drain off any fat
1/2 pound bacon, cooked and chopped, reserve 2 tablespoons of grease when cooking to use in the dressing
3/4 cup chopped pickles
2 cups cherry tomatoes, cut in half
1 cup shredded cheese or you can use cubed cheese or chunks of cheese
12 ounces cooked pasta ( I used Heartland gluten free pasta)
In a large bowl combine ground beef, bacon, pickles, tomatoes, cheese, and pasta.
Carefully stir in dressing until ingredients are well coated with dressing.
Serve immediately or refrigerate until serving.