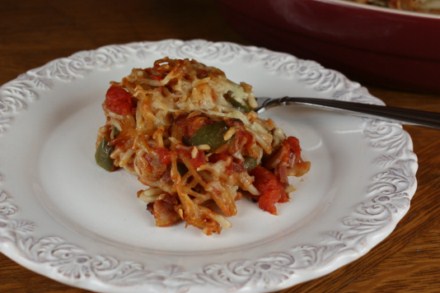 My kids declared this bacon spaghetti one of the best meals that I have made and I have to agree, this spaghetti was really good.
But, how could it be bad when it contains a pound of bacon? Anything with a pound of bacon in it has to be good, doesn't it?!
As soon as I saw this recipe in one of my pork cookbooks, I knew I had to try it. We love spaghetti and we love bacon, so I knew combining the two would make a perfect meal.
This is basically a version of a baked spaghetti, but the bacon in it makes it a little different. It also contains very little cheese compared to many baked spaghetti recipes, but the amount of bacon in it, makes up for the lack of cheese.
I think the combination of pasta, sauce, bacon, and cheese is perfect in this.
If you like bacon, you need to try this. Seriously, this is really that good.
Bacon Spaghetti
8 ounce spaghetti noodles ( I used gluten free)
1 lb bacon, cut into pieces
1 onion, chopped
1 green pepper, chopped
2 -14 ounce cans diced tomatoes
1 teaspoon oregano
1 teaspoon paprika
1/2 teaspoon salt
1/8 teaspoon pepper
1 cup grated Parmesan cheese ( I use the real stuff, not the stuff from the green can.)
Preheat oven to 350 degrees.
Bring a pot of water to a boil. Cook pasta in water until tender, about 10-12 minutes. Drain the pasta and set aside.
While pasta is cooking, fry the bacon until browned and cooked completely.
Drain bacon, reserving a few tablespoons of grease.
Cook onion and pepper in reserved bacon grease until tender and lightly browned.
In a large bowl combine bacon, cooked onion and pepper mixture, tomatoes, and spices. Add cooked spaghetti noodles and mix together well.
Spread into a greased 9×13 pan or other similar casserole dish.
Sprinkle with Parmesan cheese.
Bake for 40-45 minutes or until heated.