BLS Salad is a bacon, lettuce, and tomato sandwich, but in salad form with creamy buttermilk dressing. It is pure deliciousness. I think I could eat this salad everyday.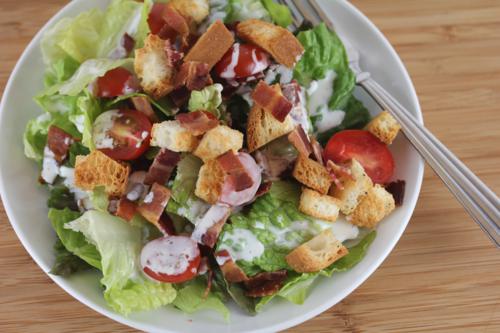 Crisp lettuce, chunks of bacon, creamy dressing, sliced tomatoes, and homemade croutons are a combination that everyone will love.
I have a feeling this salad will be on our menu often during the spring and summer.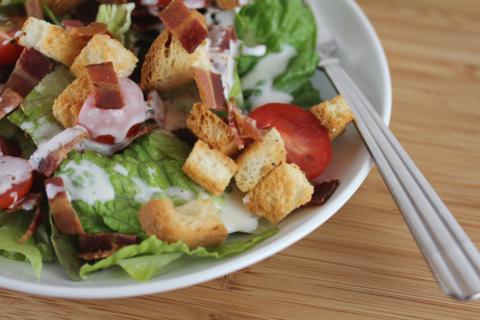 BLT Salad with Buttermilk Dressing
1/2 pound of bacon, cooked and cut into chunks

1/3 cup buttermilk

3 tablespoons mayonnaise

2 tablespoons apple cider vinegar

1/4 teaspoon italian seasoning

Lettuce- about 1 pound, chopped

2 cups cherry tomatoes, halved 

homemade croutons

– You can use whatever croutons you like, but really

homemade croutons

make this so much better. 
In a small bowl or jar whisk together buttermilk, mayonnaise, apple cider vinegar, and italian seasoning. Season with salt and pepper to taste. 

On 4 plates layer lettuce, tomatoes, bacon and croutons. 

Drizzle with dressing and serve.