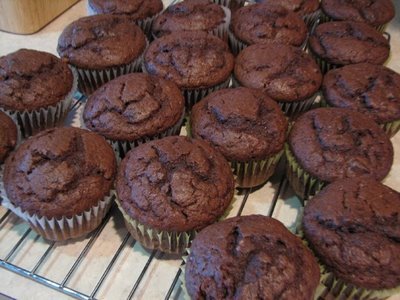 Last week I was going to make my Buttermilk Chocolate Bread, but I really wanted something a little different. I wanted to use up some buttermilk that had expired. I knew it would be fine to bake with it and thought the chocolate bread would be a good way to use it up, but I was not really in the mood for a quick bread.
I decided to try using the same batter to make muffins. I had done this before with other quick bread recipes and it usually works well. I gave it a try with this batter and they turned out really good. In fact I think better than the bread version. I love the bread, so that says a lot. I am not sure exactly why they were better, but they were. They were more moist and just had a better overall texture.
So, if you like my Buttermilk Chocolate Bread trying making muffins with the same recipe. I baked the muffins for about 18 minutes.