In trying to eat healthier one of the things I have been doing is making my own salad dressings. I have found several we liked, but nothing that really stood out. Especially when it came to a homemade ranch style dressing.
That was until last week. Several weeks ago I found at the library the book "How To Cook Everything Vegetarian" By Mark Bittman. I contains a lot of helpful tips and ideas. One of his recipes that caught my attention was his Real Ranch Dressing. He said that in order to give you the twang and the thickness of ranch dressing you need to use buttermilk powder along with buttermilk. I was instantly curious. This was what I had not liked about the other ranch dressings I had tried. That had not had the right texture and taste. Something was missing. So I gave the buttermilk powder a try. It worked. It was the best of all the ranch style dressings I had tried.
I will list his recipe and my variation of his. I used his basic one but added some extra things. I thought it needed a little more flavor. I would also suggest you let this sit in the fridge several hours before using it. It will thicken up. You should also taste this when you are making it. Adjust the herbs to your taste, add more or less depending how you like it. I think the real tip is the buttermilk powder. It gives it the extra taste it needs.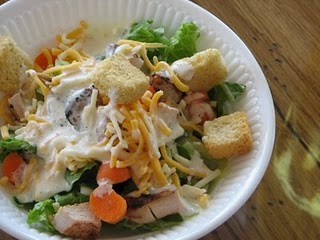 Real Ranch Dressing by Mark Bittman
1 cup mayonnaise
1 cup buttermilk
1/4 cup buttermilk powder
salt and pepper
1/4 cup chopped fresh chives or parsley.
Place mayonnaise, buttermilk, and buttermilk powder in a medium jar with tight fitting lid. Sprinkle with salt and pepper. Add chives or parsley and place lid on jar. Shake vigorously for at least 30 seconds. Taste and adjust seasoning. Will last several days in fridge, it will keep longer if you do not use fresh herbs.
My Buttermilk Ranch Dressing
1 cup mayonnaise
1 cup buttermilk
1/4 cup buttermilk powder
1 tablespoon dried parsley
1/2 teaspoon of onion powder
1/4 teaspoon salt
1/8 teaspoon garlic powder
Mix together in a blender. Blend for 30 seconds or until well combined. Store in a jar in the fridge.
For more great kitchen tips see Tammy's Recipes.