A good apple cake is moist and delicious. I always feel like eating a bite of apple cake takes me back in time because some of the best apple cakes are the old fashioned recipes that have been passed down for generations.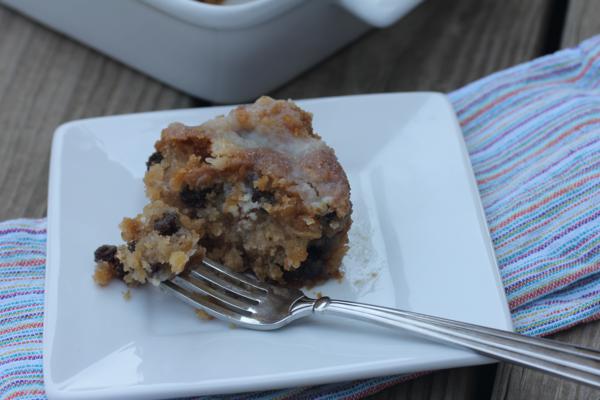 Some of my favorite cake recipes are older recipes. They are the kind of recipes that are simple and use simple ingredients. This cake is just that. It is a basic, but delicious apple cake. And it is perfect for fall.
I am sharing this recipe today as part of my Cooking Through My Collection series. This apple cake is actually called Cafeteria Lady Cake and it comes from the cookbook From Our Grandmothers' Kitchens
by America's Test Kitchens.
It is no secret that I love America's Test Kitchen and Cook's Illustrated. They do a great job of sharing the science behind cooking.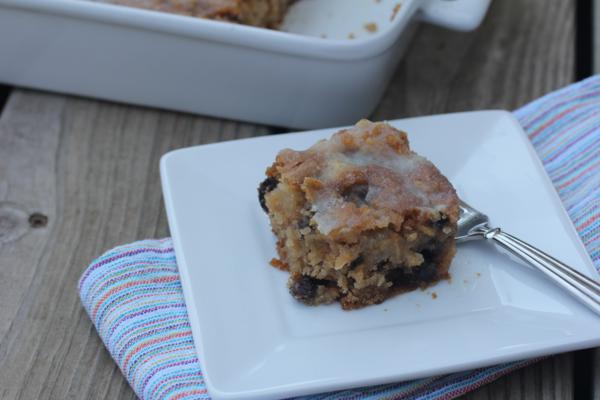 This cookbook though doesn't share so much about the science behind cooking. This cookbook is described as a treasury of lost recipes too good to forget. And that is exactly what this cookbook is. It shares recipes from the past that should not be forgotten.
What I love about this cookbook though is that they don't just share the recipe, they share notes on how they updated it to make it more in line with modern day cooking.
I think From Our Grandmothers' Kitchens
is one of my favorite cookbooks from America's Test Kitchen because it takes the old fashioned recipes from the past that I love and updates them as needed. It is like an updated version of a family recipe box.
This cake is called Cafeteria Lady Cake because the recipe came from a lady that worked in a cafeteria.
One of the things you will notice about this cake is the amount of oil. If you look at many older cake recipes they contain a lot of oil. That is why they are so moist. You can try to cut back the oil or use part applesauce, but for a really moist cake, I say use all the oil.
This cake does not have a frosting instead it has a delicious glaze made of butter, buttermilk, and sugar.
You cook the glaze and pour it over the warm cake. I think the glaze is what makes this cake so delicious. Don't skip it. It gives it a unique topping that is so good!
And I made this cake gluten free simply by using Bob's Red Mill 1 to 1 gluten free flour and it worked great.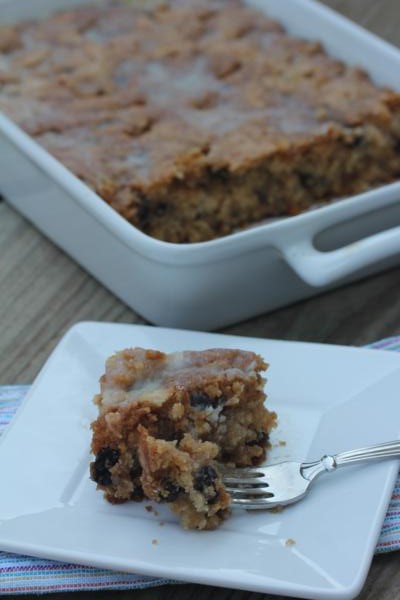 Yield: 18 servings
Cafeteria Lady Cake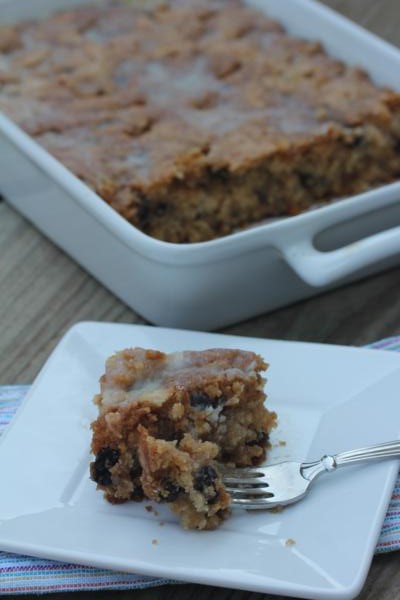 Cafeteria Lady Cake is an old fashioned cake that is easy and delicious to make.
Total Time
1 hour
5 minutes
Ingredients
Cake
3 cups flour (I used Bob's Red Mill 1 to 1 GF flour blend)
1 teaspoon baking soda
1 teaspoon ground cinnamon
1/2 teaspoon salt
2 cups sugar
1 1/2 cups vegetable oil
2 eggs
1 teaspoon vanilla
3 apples, peeled and grated
1 cup walnuts, chopped ( I left these out)
1 cup raisins
Glaze
1/2 cup buttermilk
1/2 cup butter, cut into pieces
1 cup sugar
1 teaspoon vanilla
1/2 teaspoon salt
Instructions
Preheat oven to 325 degrees.
Grease a 9x13 pan and set it aside.
In a bowl whisk together flour, baking soda, cinnamon, and salt. Set aside.
In a separate bowl whisk together sugar, oil, eggs, and vanilla until well combined.
Stir flour mixture into sugar mixture and stir just until combined.
Stir in apples, walnuts if using, and raisins.
Spread batter into 9x13.
Bake for 50-55 minutes or until a toothpick inserted into the center of the cake comes out with just a few moist crumbs.
For the glaze

In a small saucepan combine buttermilk, butter, sugar, vanilla, and salt.
Cook over medium low heat, stirring often until butter is melted and sugar is dissolved. This takes about 2 minutes.
While the cake is warm use a fork or wooden skewer to poke holes in the top of the cake.
Slowly pour glaze over the cake.
Let the cake cool for several hours before serving to allow time for the glaze to absorb.

Nutrition Information:
Yield:
18
Serving Size:
1
Amount Per Serving:
Calories:

508
Total Fat:

29g
Saturated Fat:

5g
Trans Fat:

1g
Unsaturated Fat:

22g
Cholesterol:

35mg
Sodium:

251mg
Carbohydrates:

62g
Fiber:

2g
Sugar:

42g
Protein:

5g