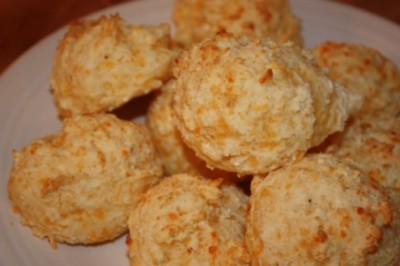 One of the things that I love about blogging is the feedback that I get from my readers. I love hearing that you tried a recipe. I enjoy knowing about what you liked or how you changed something.
Several months ago Joy at Five J's, who is my great blog designer, explained to me how she changed my cheese bread. Her family loved my cheese bread, but she adapted it to fit her needs.
She took the basic bread recipe and made it into biscuits. I loved this idea. She took a bread recipe that took about 50 minutes to bake and turned it into a quick and easy biscuit that is perfect for any meal of the week.
I gave this a try and my family loved these. All you have to do is follow the basic recipe, but use shredded cheese instead of cubes, then drop the dough unto cookie sheets or similar pan. I use an ice cream scoop for this to make it easier. Bake at 375 for 15-18 minutes.
If you have tried and loved my cheese bread recipe, you should give these a try. You will love them!
For those of you that are gluten free, I have a gluten free version of this that I hope to post soon.
This post linked to Foodie Fridays.