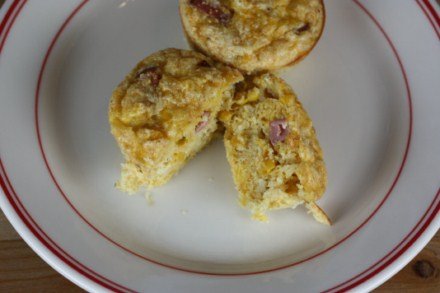 My family loves these Cheesy Corn Dog Muffins. They are perfect to keep on hand in the freezer for a quick lunch or dinner.
I will say though that these are not like the deep fried, on the stick, type of corn dog. If that is what you are wanting, these probably are not for you. Just being honest here.
These are moist. These are not fried. And although they are not healthy, they are healthier than most corn dogs. And if you use a gluten free hot dog these are gluten free.
My kids loves these and I hope yours do too!
Cheesy Corn Dog Muffins
1 cup cornmeal ( I use gluten free cornmeal)
1 teaspoon salt
½ teaspoon baking soda
4 eggs
1- 14 ¾ ounce cream style corn
1 cup milk
2 tablespoons oil
1 cup shredded cheddar cheese
5 hot dogs cut into bite size pieces ( I like them cut small like this instead of in large pieces.) I use gluten free hot dogs
Combine the first 7 ingredients. Stir just until combined well.
Stir in cheese and hot dogs.
Grease muffin pan.
Spoon into muffin tins. This makes about 15 muffins.
Bake at 350 for 20-22 minutes.
Serve and enjoy!
I actually like the texture on these a little better after they have cooled down a little, but you can serve them either way.
These also freeze well.