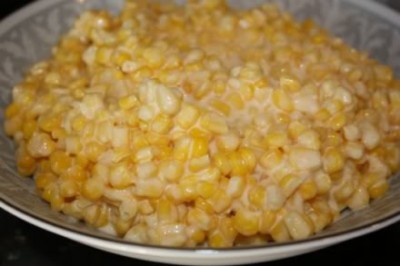 I love corn. It is one of my favorite side dishes, but I like corn dishes that are a little different. The first time I had this corn dish I loved it. It was a bit unusual, but very good.
A friend of mine had brought it to a church dinner and I knew I had to have the recipe. When she told me how easy the recipe was to make I was surprised. I really thought it must be complicated because it was so good. But she said it was an old Taste of Home recipe and it was simple.
I made this and took it to Thanksgiving at my in-laws. I like this recipe for holidays and church dinners because it is a crockpot recipe. You can make it up ahead of time and start the cooking several hours before dinner it to be served. This means less to do right before the meal.

Cheesy Creamed Corn
3 packages (16 ounces each) frozen corn
2 packages (one 8 ounces, one 3 ounces) cream cheese, cubed
1/4 cup butter, cubed
3 tablespoons water
3 tablespoons milk
2 tablespoons sugar
6 slices process American cheese, cut into small pieces ( I have used cheddar, but the processed velveeta  type cheese does make it a little creamier and better)
In a 3-qt. slow cooker, combine all the ingredients. Cover and cook on low for 3 to 4 hours or until heated through and the cheese is melted. Stir well before serving.
For more recipes and ideas see
Frugal Fridays
,
Foodie Fridays
, and
Grocery Cart Challenge
.