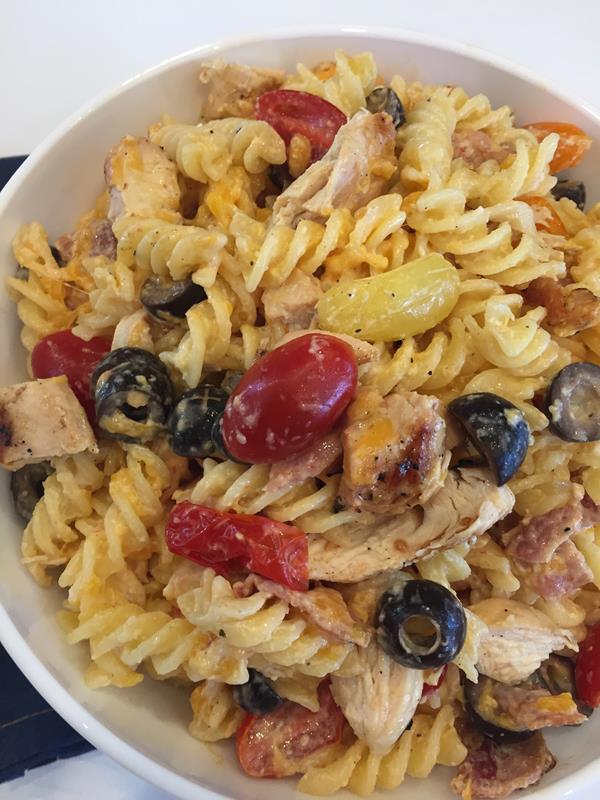 Chicken Bacon Ranch Pasta Salad is the perfect summer meal!
I love ranch dressing. Love it! It is my favorite salad dressing. I will eat other salad dressings, but ranch is the one I almost always choose.
I was recently at a restaurant on vacation and because of some health issues I was limited to what I could eat. I ordered a salad and asked for ranch dressing. When the waitress brought the food, she said they were out of ranch dressing and gave me two other choices. I might have looked at her like she was crazy. No ranch?!
Yes, I know it was not her fault that they were out of ranch dressing, but I was in the mood for ranch. Oil and vinegar on a salad is just not the same. I took it, but I did not enjoy it nearly as much as I would have with ranch dressing. I really do love ranch dressing.
I know not everyone shares my love of ranch, but in my opinion it is the best. And I will totally admit that I am picky on the brand of ranch dressing that I like too. If I am buying it, I buy the name brand stuff. Off brand ranch dressing is just not the same. Just saying. 🙂
Those that know my love of ranch dressing, and my love of pasta, will not be surprised that I combined the two into a delicious pasta salad. Add some bacon and vegetables to the pasta salad and you pretty much have the perfect summer meal.
Pasta salad is a great summer meal because it can be made ahead of time and it doesn't heat up the house to make. It is also great leftover for lunch or dinner the next day.
If you love pasta salad and ranch dressing as much as I do than this recipe is a must make!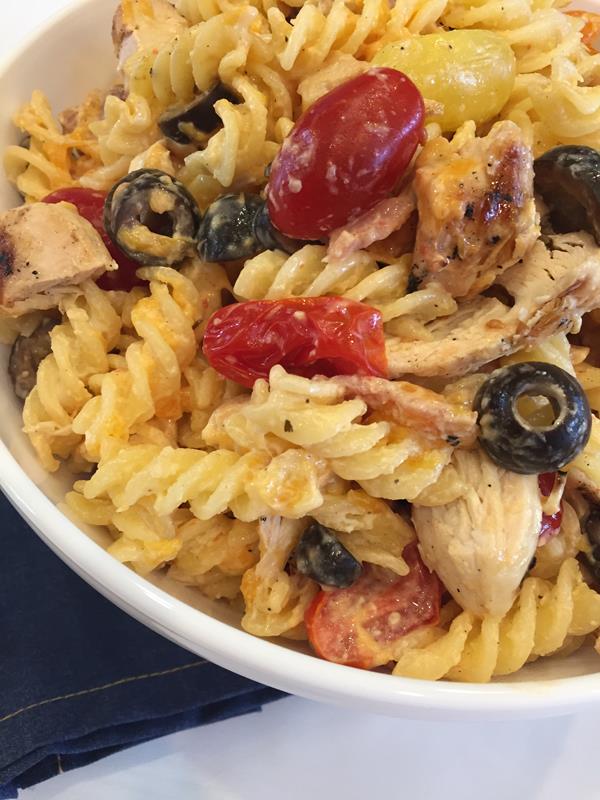 Chicken Bacon Ranch Pasta Salad
Chicken Bacon Ranch Pasta Salad is a simple and delicious summer meal.
Ingredients
12

ounces

macaroni, fusilli, or other shaped pasta

(I use gluten free pasta)

1

cup

ranch dressing

2

cups

cooked chicken, cut into chunks or shredded

2

cups

cherry or grape tomatoes, cut in half

8

slices

bacon, cooked and cut into pieces

1

cup

sliced olives

add more or less depending on desired amount

1

cup

shredded cheddar cheese

1/3

cup

grated Parmesan cheese
Instructions
Cook pasta according to directions. Drain and place pasta in a large bowl.

Add ranch dressing and stir to coat pasta well.

Add remaining ingredients and stir just until well combined.

Serve immediately or refrigerate until ready to serve.