Are you tired of cooking? Do you need a quick and easy lunch or dinner? This classic chicken salad sandwich is perfect for a quick and easy meal.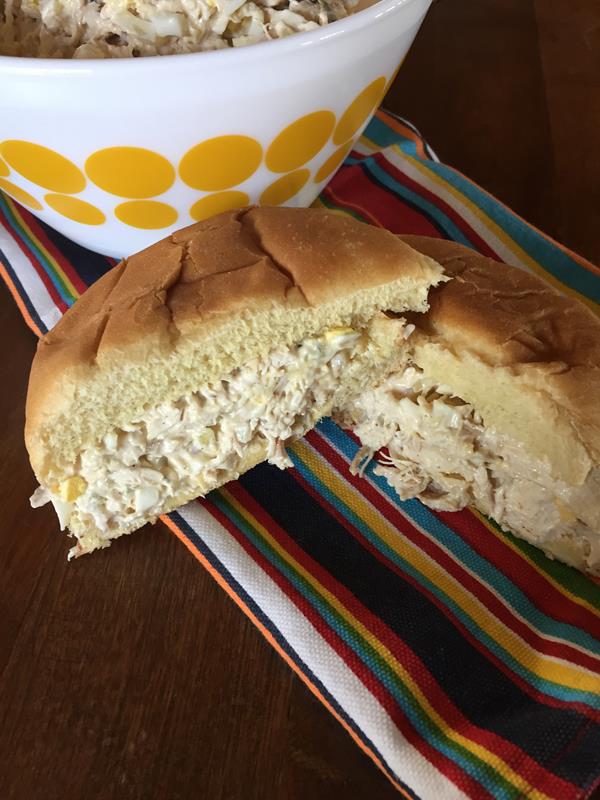 I grew up in Oregon, but have lived in Oklahoma for over twenty years. One of the things that I have learned after living in two totally different parts of the county is how regional food can be.
I grew up eating shrimp on pizza. Most people in Oklahoma think I am crazy when I talk about how good shrimp is on pizza.
On the other hand BBQ Bologna is huge in Oklahoma. It in on the menu at almost every BBQ restaurant. When I mention BBQ Bologna to people in Oregon they can't believe it is popular in Oklahoma.
Chicken salad is another example of regional food. I ate chicken salad some growing up, but it certainly wasn't a staple in my family.
When I moved to Oklahoma I quickly realized that people in Oklahoma and people in the south, take chicken salad very seriously. And what you put in your chicken salad varies by region and family.
I never knew that people could be so opinionated about chicken salad. Everyone has a best way of making it.
I am not sure if it is my Oregon roots or just that I often like to keep things simple, but when it comes to my chicken salad most of the time I like to keep it simple and pretty classic.
I don't usually put anything odd in my chicken salad. No fruits. No nuts. No celery.
I also like my chicken salad pretty shredded. As in I don't like huge chunks of chicken. I want small pieces of chicken with the dressing completely mixed in.
I use a food processor to get the best texture, but if you like chunkier chicken just cut it up or shred the chicken by hand.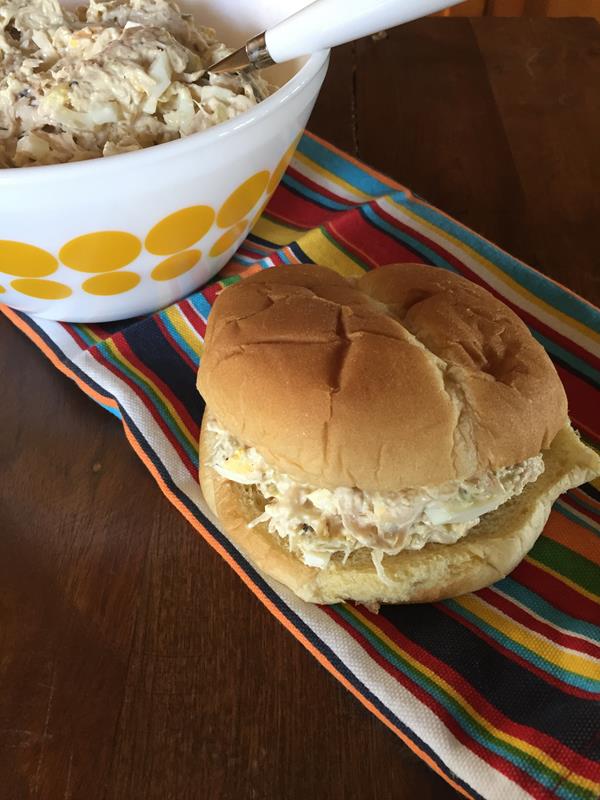 One of the things I love about chicken salad is that it makes a great summer lunch or dinner. When it is over 100 degrees here in Oklahoma, turning on the oven is the last thing I want to do. Chicken salad doesn't require the oven, so it makes a great summer meal.
I also love that I can make this ahead and serve it several different ways. I can serve it as sandwiches. My son loves to eat his on a hamburger bun with a slice of cheese.
My girls enjoy it on gluten free bread. I prefer mine on a tortilla or on a piece of lettuce for a lettuce wrap. This is one of those recipes that is easy for everyone just to eat how they like it.
To add some flavor to my chicken salad I like to use grilled or rotisserie chicken, but any cooked chicken will work.
I would love to hear how you enjoy your chicken salad. Do you keep it simple or do you like to add things into your chicken salad?
Yield: 8 servings
Chicken Salad Sandwich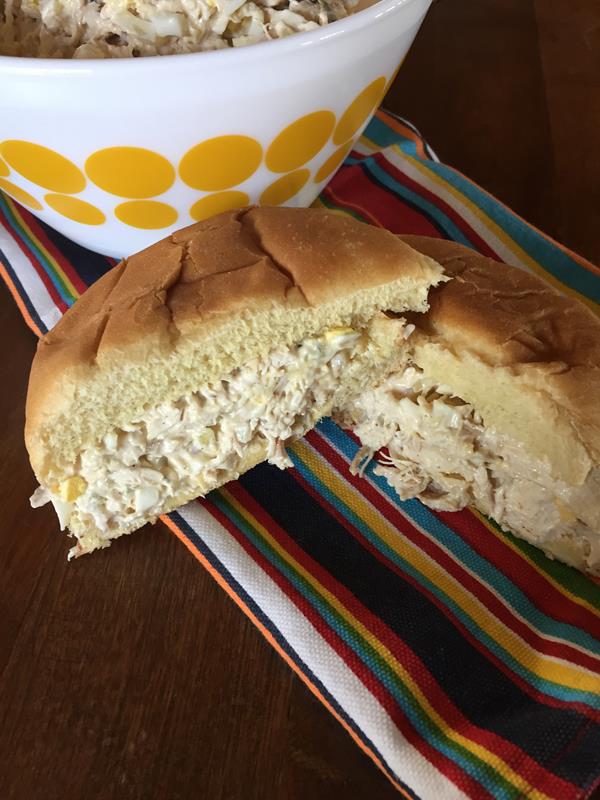 Chicken Salad Sandwiches are a simple lunch or dinner!
Ingredients
6 cups cooked boneless chicken breast or chicken tenderloins, cut into chunks (To add flavor I like to use grilled or rotisserie chicken)
1/3 cup relish, sweet or dill
1/2 cup mayonnaise (Use more if you like a wetter texture)
3 hard boiled eggs, cut up
1/2 teaspoon salt
bread, gluten free bread, buns, etc for serving
Instructions
Place cooked chicken in a food processor. Pulse a few times to chop up chicken.
Add remaining ingredients and pulse a few more times or until desired consistency. Be careful not to over process.
Serve on bread, tortillas, or lettuce.
Refrigerate any leftovers. This will last for several days in the refrigerator so make extra for easy lunches.
Nutrition Information:
Yield:
8 servings
Serving Size:
1
Amount Per Serving:
Calories:

354
Total Fat:

17g
Saturated Fat:

3g
Trans Fat:

0g
Unsaturated Fat:

12g
Cholesterol:

170mg
Sodium:

470mg
Carbohydrates:

10g
Fiber:

1g
Sugar:

4g
Protein:

38g