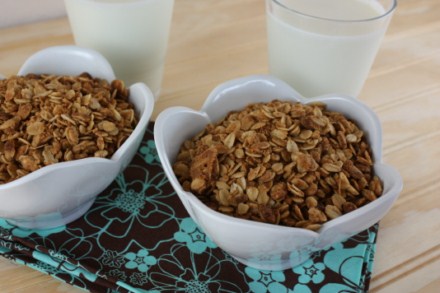 My kids love granola. I have often bought granola, but it is expensive and is full of ingredients that I cannot control. Making granola at home is a  less expensive and much healthier option.
Over the years I have found several homemade granola recipes  that my family really enjoys, but this recipe today is one that I have made many times and it is a favorite of ours.
The recipe originally came from an Ebook that Money Saving Mom put together several years ago. I actually think the Ebook was done before she started Money Saving Mom. I enjoyed the Ebook and this was my favorite recipe from it.
This is one of the easiest granolas that I have made. Not only is this granola easy to put together, but it is does not cook for long at all. Many granola recipes take close to an hour in the oven, this one cooks for less than 20 minutes.
This recipe contains peanut butter, which is the way I have made it many times. However, I recently adapted it for my daughter's peanut allergy, using the Soy Nut Butter and it worked great. I think this would turn out well with any nut butter, so you can adjust it as needed.
This granola would also be great used in my granola cookies.
Peanut Butter Granola Recipe
6 tablespoons oil
1 cup peanut butter (or soy nut butter)
1 ½ cups brown sugar
7 cups oats
Cook oil and peanut butter over low heat until it is melted and smooth.
Remove from heat and add sugar.
Add oats and stir well until oats are coated.
Spread onto cookie sheet.
Bake at 350 for 18-20 minutes stirring at least once.
Cool and store in an airtight container.
I do not usually post recipes from other bloggers because their recipes are theirs, but this recipe is not on the
Money Saving Mom
site and the EBook is no longer available, so Cyrstal gave me permission to post it.