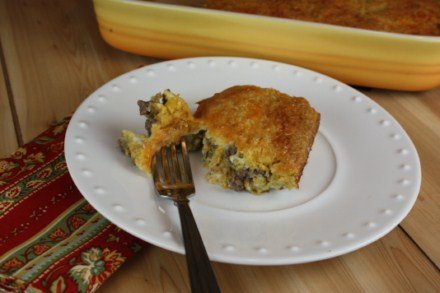 This is one of those quick and easy, yet very kid friendly meals. I made this a few weeks ago and my kids loved it. Even my son, the picky eater of the family, had seconds on this Chili Cornbread Bake.
This will definitely be making an appearance on our menu plan again.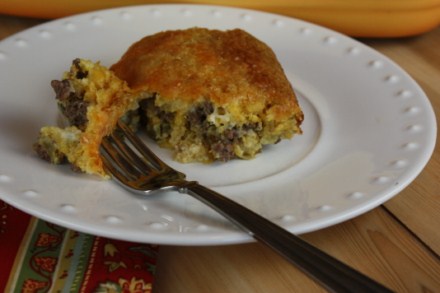 Chili Cornbread Bake
1 cup cornmeal
1 teaspoon salt
1/2 teaspoon baking soda
4 eggs
1- 14 3/4 ounce cream style corn
1 cup milk
2 tablespoons oil
1 lb ground beef
1 1/2 cups shredded cheddar cheese
1- 4 ounce can chopped green chilies
Cook ground beef until done. Drain off fat and set meat aside.
In a bowl combine cornmeal, salt, and baking soda.
In another bowl combine eggs, corn, milk, and oil. Stir into dry ingredients just until moistened.
Pour half of the batter into a greased 9×13 pan.
Carefully layer ground beef, cheese, and green chilies on top of batter.
Spread remaining batter on top.
Bake at 350 for 40-45 minutes.
Adapted from Taste Of Home.