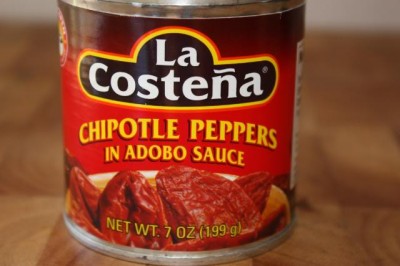 I have several recipes coming up that contain chipotle peppers in adobo sauce. Because of this I thought it would be a good time to give you a few tips about them.
You can find these in the Mexican aisle at your grocery store. They add great flavor to many Mexican type dishes and a little goes a long ways.
I really like to use chipotle peppers in adobo sauce in my cooking. My husband likes food spicy, so he likes the spicy flavor that these add to food. I like the smoky flavor that they add. You can take a simple dish and give it a lot of flavor and spice, just by adding a little chipotle pepper to it.
These add a lot of flavor and spice, but you really only need a little. Seriously, unless you like foods really spicy, one or two peppers is enough for a whole meal or dish. The problem is that you have to buy them in a can and you usually get at least 6 peppers per can. I have never used 6 peppers at one time.
So, what do you do with the rest? You freeze them. It works great. I use the one or two that I need at the time and freeze the rest. I usually just put one or two into each ziplock type bags and freeze them until I need to use them. I do not freeze these in plastic containers because I have found that the flavor stays in the plastic. So, unless you want your plastic containers smelling spicy, you might want to use something else, like freezer bags.
Adding things like this to food can add a lot of flavor for just a little price. This is how you take a simple and frugal rice and bean type dish and make it more interesting. One can costs under $2, by freezing the extra peppers, I can easily use them in 4 or 5 meals. This keeps frugal meals frugal, but adds a little more flavor to them, for very little cost.
I have two simple and frugal dishes coming up that use these peppers.
Do you like and use these? If so what do you use them in?