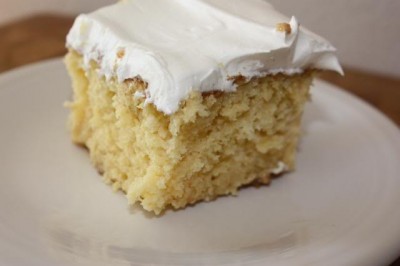 I love to bake and make all kinds of desserts. I find it relaxing to spend a couple of hours making a nice cake, dessert, or bread. However, life happens and things get busy.
There are many times that I need a really nice dessert to serve company or to take somewhere, but I don't have a lot of time to spend making one. When this happens I have several recipes I turn to and this cake is one of them. Yes, I know there are lots of other fancier versions of Tres Leches Cake. Ones that don't use the shortcuts that this recipe does. I have several of them and think they are great. But today I am focusing on those days when you need a really nice dessert, but don't have the time it takes to make one.
I love this cake. It is so easy, yet really good. It is one of those cakes that people will think took you a lot of time, but in reality, it didn't. This cake can serve a crowd because it is a rich dessert. A little piece of this cake goes a long way.
This is a cake that I would not usually make just for my family because it really is a lot just for the five of us. However, this cake does get better the longer it sits. I recently discovered how true this is when I made this to take to a church dinner. I made this and then we all got sick and we did not make it to the dinner. We had a lot of cake to eat and not many of us felt like eating it because we were sick. We ended up eating this over several many days and the cake still tasted great.
This cake is easy, it does not take a lot of time to prepare, but it does have to set for at least 4 hours before serving. So, be sure to allow enough time for that.

Easy Tres Leches Cake
For Cake
1 package (18.25 ounce) plain yellow cake mix
1 package (3.4 ounce) vanilla instant pudding
1 cup milk
1 cup oil
4 eggs
For Milk Syrup
1 can sweetened condensed milk
1 can evaporated milk
1 cup heavy cream
1 teaspoon vanilla
whipping cream, you can whip your own or use coolwhip for an even easier version
For cake, mix together, cake mix, pudding, milk, eggs, and oil. Beat with an electric mixer for 2 minutes. Pour into a greased 9×13 pan. Bake at 350 for 30 minutes or until cake tests done. Let cool completely.
For the milk syrup mix together sweetened condensed milk, evaporated milk, heavy whipping cream, and vanilla. Poke holes all over the top of the cooled cake with a skewer or fork. Slowly pour milk mixture over cake. I pour about 1/3 of it over and let sit for a few minutes. Then I come back and do this a few more times. The milk will absorb more as it sits. Refrigerate for 4 hours to let the milk mixture absorb into cake. Spread whipping cream or cool whip on top of cake before serving. This cake will last refrigerated for several days.

Adapted from the Dinner Doctor.
For more great recipes see Tasty Tuesday.
This post also linked to Real Life.