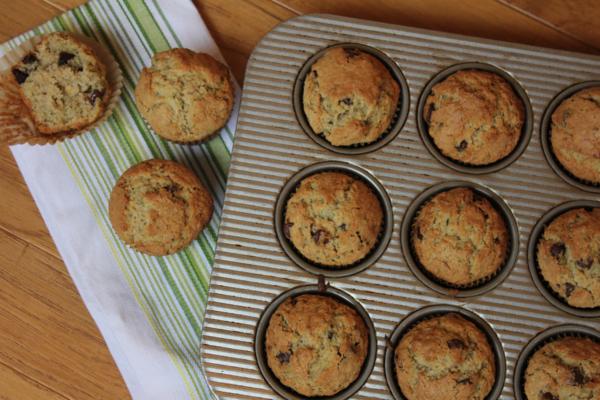 Last week I picked our first zucchini of the year from the garden. Thanks to all the rain we have had here in Oklahoma it was a rather large zucchini, which meant that the only thing it was really good for was baking.
My family loves fresh from the garden zucchini. Our favorite way to eat them is to pick them small, slice them, and eat them raw on salad. Delicious!
However, picking a zucchini at just that right small size is almost impossible. How is it that zucchini goes from a tiny little thing to a giant over sized zucchini in less than a day? Or at least it seems like it happens that fast.
It is also one of those things that you can't have just a few of. One zucchini plants will feed the neighborhood. Or at times feels like it will.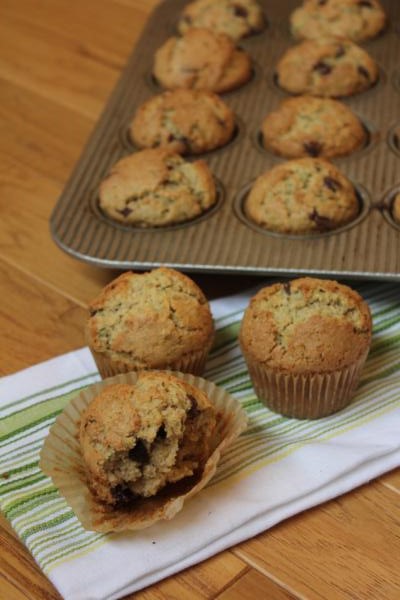 But since we love it, year after year I plant it. And then I spend the summer finding new ways to use it.
I recently pulled a bunch of my cookbooks off the shelf looking for zucchini recipes. I found several that I want to try, but decided to give some muffins a try with the zucchini I had on on hand.
The recipe I found came from this cookbook, which is a cookbook I have had for over 20 years. It was one of two cookbooks that I owned when I got married. It has been used so much that it is stained, written on, and falling apart. It is one of the most used cookbooks in my collection.
The recipe for zucchini oatmeal muffins caught my attention because they seemed a little different with the oatmeal in them. I have made a lot of zucchini muffins over the years, but I don't remember ever making one with oatmeal, so I knew it was one that I wanted to try.
Of course I had to change it up a little and I added chocolate chips. Chocolate chips just seem to go with the recipe. Plus the original recipe called for 1 cup chopped pecans and since we can't have pecans I thought chocolate chips would make a great addition instead.
These turned out delicious! My whole family loved them. We ate them for breakfast, lunch, and snacks. I think I will be making these a lot this summer.
Yield: 15 muffins
Chocolate Chip Zucchini Oatmeal Muffins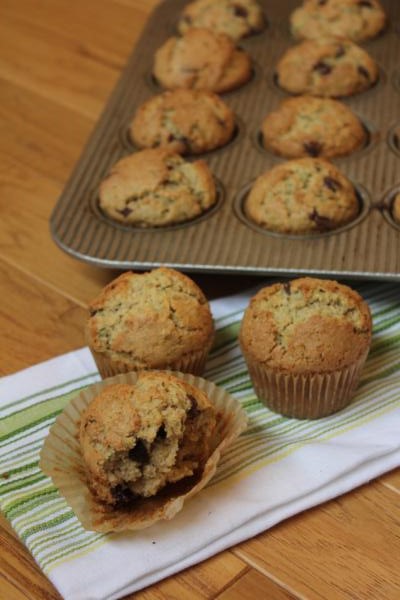 Chocolate Chip Zucchini Oatmeal Muffins are a great way to use up that extra garden zucchini.
Ingredients
2 1/2 cups flour ( I used Bob's Red Mill 1 to 1 gluten free flour)
1 1/2 cups sugar
1/2 cup quick cooking oats ( use gluten free oats for gf version)
1 tablespoon baking powder
1 teaspoon salt
1 teaspoon ground cinnamon
4 eggs
3/4 cup shredded zucchini
3/4 cup oil
1 cup chocolate chips
Instructions
Preheat oven to 400.
In a mixing bowl combine flour, sugar, oats, baking powder, salt, and cinnamon. Set aside.
In another bowl beat eggs and oil. Add to flour mixture along with zucchini.
Stir until combined.
Stir in chocolate chips and stir just until mixed in.
Fill lined or greased muffin cups 3/4 full and bake for 25 minutes or until toothpick inserted in the center comes out clean.
Cool on wire rack.

Nutrition Information:
Yield:
15
Serving Size:
1
Amount Per Serving:
Calories:

340
Total Fat:

16g
Saturated Fat:

3g
Trans Fat:

0g
Unsaturated Fat:

12g
Cholesterol:

50mg
Sodium:

260mg
Carbohydrates:

46g
Fiber:

2g
Sugar:

27g
Protein:

5g