I love mousse. It is such a rich and creamy dessert that you can use so many different ways. You can serve it on it's own, but you can also serve it as a topping to brownie. It works great as a layer in a trifle, in a pie, or even as a frosting on a cake.
Some mousse recipes are hard and complicated. This recipe is neither of those things. This is easy and always turns out. The marshmallows in it give it it's unique, but perfect texture.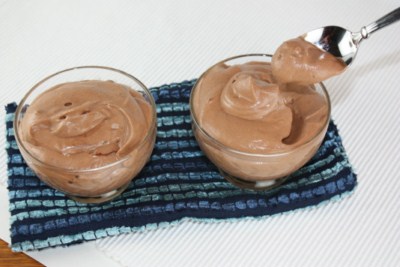 Chocolate Marshmallow Mousse
3/4 cup milk
4 cups mini-marshmallows
1 cup chocolate chips
3/4 cup heavy cream
1 teaspoon vanilla extract
Combine milk, marshmallows, and chocolate in medium saucepan over low heat, stirring constantly, until marshmallows and chocolate are melted then add vanilla.
Pour into medium bowl and set bowl over larger bowl of ice water. Let stand, whisking often, until mixture is cool and thickened, 10-15 minutes. This is an important step, don't try to leave it out. It is easy to do and helps give this the texture that it has.
In a separate bowl, beat cream until cream just holds stiff peaks.
Fold chocolate mixture into whipped cream. Spoon into dessert cups and refrigerate for about 2 hours or up to 2 days.
This post linked to Tasty Tuesday.