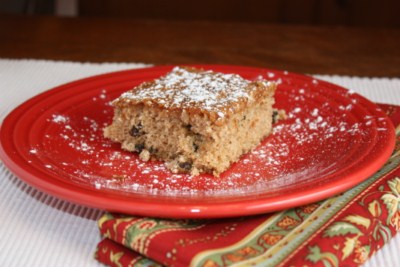 Applesauce cake is one of those great old fashioned desserts. It is a frugal, yet really good dessert. It is a dessert that many of our grandmothers and great grandmothers made for many years. This is what I call a comfort food type dessert. An easy and simple dessert, made from everyday ingredients that most of us have in our cupboards.
There are many versions of applesauce cake. This one is adapted from a Paula Deen recipe and it is really good.
Tomorrow I will post the gluten free version of this cake that I came up with.

Paula Deen's Applesauce cake
• 1 cup granulated sugar
• 1/2 cup vegetable shortening
• 2 eggs
• 2 cups all-purpose flour
• 1 teaspoon ground cinnamon
• 1/2 teaspoon ground cloves
• 1 tablespoon baking powder
• 1/2 teaspoon salt
• 1 cup chopped nuts (optional)
• 1 cup raisins
• 1 cup unsweetened applesauce
• confectioners' sugar, for sprinkling
Preheat oven to 350. Grease a 13x9x2″ baking pan.
Cream together the granulated sugar and shortening until fluffy using an electric mixer. Add the eggs one at a time, beating well.
In another bowl, sift together the flour, cinnamon, cloves, nutmeg, baking powder, and salt. Stir the raisins and nuts into the flour mixture.
Add the flour mixture and applesauce alternately to the creamed mixture, beginning and ending with the flour.
Pour the batter into the prepared pan. Bake for 45 minutes or until the center of the cake is firm to the touch.
Sprinkle with confectioners' sugar.