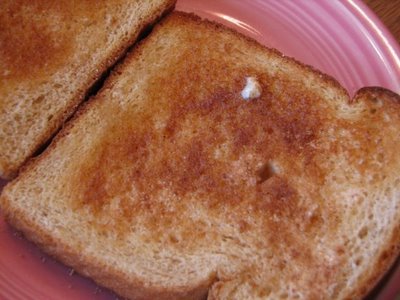 I recently served my kids a dish for breakfast that they thought was wonderful. It was one of those times where they thought I was brilliant for thinking of such a wonderful breakfast. They really did go on and on about how they loved it and wanted it again, soon and often. Any guesses what I served them?
Cinnamon and sugar toast. Brilliant aren't I? I can't believe I was so smart to think of it. 🙂
I explained to my children that I did not invent this dish. Cinnamon and sugar on toast has been around for years. It is quite common, even though they had never had it. I went on to explain that it was served a lot. Jam and honey are much more expensive then a sprinkling of cinnamon and sugar. People did not always have jam or honey to serve on their toast so they ate cinnamon and sugar. Cinnamon and sugar was a frugal option.
What surprised me about all of this is how wonderful my kids thought this was. My kids have good home cooked meals all the time. I regularly make cookies and desserts for them to enjoy. And they are thrilled with cinnamon toast.
Now I feel bad that I have never served this to them. I haven't served it because it is one of those things I ate a ton of growing up. It was a frugal and easy thing to eat for breakfast. If there was not jam or honey we put cinnamon and sugar on our toast. So for me it is not a treat.
But now I will serve my kids cinnamon toast more often. In fact they have been eating it at least once a week.
Is there anyone else out there that has never served cinnamon toast to their kids? Or am I the only one that some how overlooked cinnamon toast?