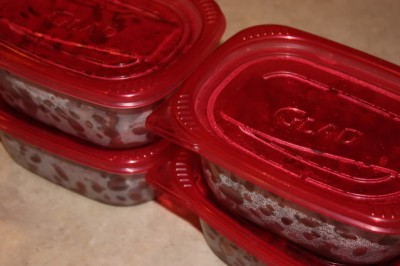 The last few days I have been in the cooking mood, but I did not want to bake anything. I decided it was a good time to cook up some things for the freezer.
I like to make big batches of beans and keep them in the freezer. I have used up most of what I had in the freezer, so I thought it was a good time to make some more. The other day I made up two crockpots full of beans to freeze. I did one of kidney beans and one of pinto beans. This way I can freeze them and use them instead of canned beans in chili and soups.
I also like to keep refried beans in the freezer to use instead of canned ones. So, today I made a big batch of regular refried beans and a big batch up black refried beans. Homemade refried beans are so much better and so much cheaper than the canned ones you buy. If you have never made homemade refried beans you should give them a try. They are really easy to make.
I also made a big batch of homemade taco sauce that I am going to freeze in small containers. This sauce turned out really well and I will post the recipe soon.
Do you cook up big pots of dried beans and freeze them for soups and chili?
This post linked to Money Saving Mom's baking day.