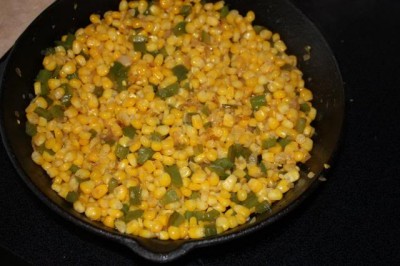 Side dishes and vegetables in my house have become a bit boring. All too often I just take a bag of frozen peas or corn, or open a can of vegetables, heat them up, and serve them. I am trying hard to get better about this.
I am trying to find more creative ways to serve vegetables that do not take a lot of time. I have good recipes for vegetables and side dishes, but many of them take a lot of time, and I don't always have that time. I have also found that many of these dishes call for expensive ingredients that you do not usually find in my pantry.
One of the side dishes that I have been making lately is fried corn. It is easy, frugal, and it makes corn a little more exciting. There are lots of different versions of this dish, but here is what I do.

Fried Corn With Peppers and Onions
1  16ounce bag of frozen corn
½ of an onion, chopped
½ of a green pepper, chopped
2 -3 tablespoons butter or bacon grease
I think this works best in a cast iron pan, but a regular fry pan or skillet will work.
Cook onions and peppers in butter until tender and the onions are starting to caramelize, this takes about 5 minutes. Add the corn and a little more butter if needed. Cook for another couple of minutes or until the corn is tender. Serve and enjoy.
For more frugal ideas and recipes see
Frugal Fridays
,
Foodie Fridays
, and
Grocery Cart Challenge
.