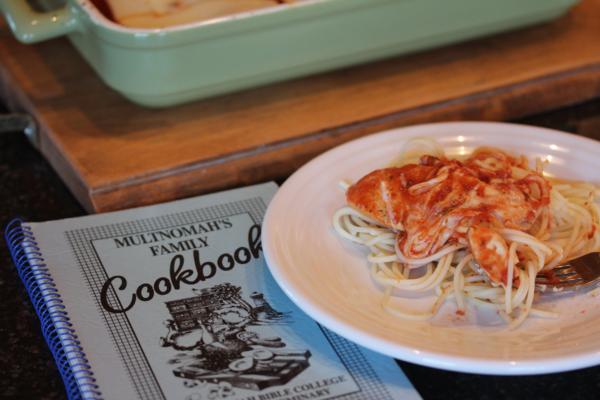 Today instead of sharing a new recipe for my Cooking Through My Collection series I am going to keep it real and share a cooking disaster. Because yes, we all have cooking disasters once in awhile.
Let me start by saying that my disaster has nothing to do with the cookbook I got the recipe from. Well, okay it was a bad recipe, but every other recipe from this cookbook has been great.
The cookbook is called Multnomah's Family Cookbook and it was given to me as a gift shortly after I was married. It is one of those great family church community type cookbooks.
The cookbook was put out by Multnomah School of the Bible, which is a college that many people I know have attended. One of the reasons that I loved this cookbook is because it reminded me of Oregon. And there are several recipes from this cookbook that I have made over and over again.
The recipe I tried recently from the book though will definitely not be one I make again.
I should have stopped when I realized that the title of the recipe had the Parmesan in it and yet there was no Parmesan cheese in the recipe. Definitely an editing error or missing ingredients, since it lacked the Parmesan it obviously should have had, but I thought I could figure it out and make it work.
Let's just say that I did not figure it out and it did not work. It was edible, but certainly not great. That is it in the picture above.
It was a cheesey chicken pasta type dish and I should have stuck with my instinct when I first saw the recipe and realized that there was a mistake in it. I should have just moved on and found something else for dinner. But I didn't and my family ended up with a less than perfect meal.
We all make meals like this once in awhile. We all burn something occasionally. We all have cakes that don't come out of the pan. And we all occasionally make a meal our family won't eat.
Yes, even I have times like that. Don't we all? Disasters and messes are just part of life in the kitchen.
Now that I have shared my cooking disaster would you share yours? Let's make each other feel better and share some cooking disasters!