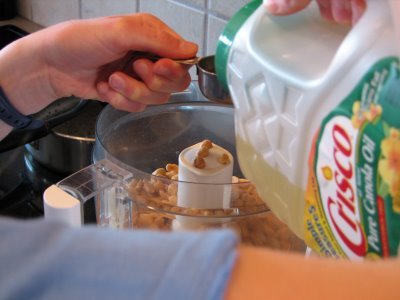 I finally have a fairly healthy cooking with kids recipe. My kids loved this recipe. We made this yesterday and it was a fun afternoon project. My kids all thought it was so fun.
I liked it because I think it helps them relate to food better. My son was thrilled to find out peanut butter comes from real peanuts. I guess he had not put the two together. I guess it might be kind of like not knowing steak comes from a cow or eggs from a chicken. So, not only was this fun it was educational.
I found this recipe in the Paula Deen cookbook that my daughter received for Christmas. She has been begging me to let her cook from this cookbook. I have not had much time to cook, let alone cook with my kids. This week though I was determined to cook something with my kids. This recipe was the one we choose.
I was not sure if my kids would like this one. I knew it would be different from store bought, but my kids loved it. My daughter thought it tasted better than those that you buy. I also thought it was very good. It does have a different texture, but it was really good. I think this would be expensive to make all the time, but it was nice to have peanut butter tasting so natural. My husband though, the peanut butter lover of the family, said store bought is better. He is not a fan of the natural kinds of peanut butter so I expected this.
Here is what we did.
Yield: 8 servings
Cooking With Kids-Making Peanut Butter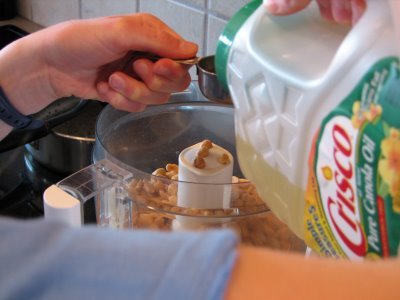 Making peanut butter with kids is a fun way to cook with kids.
Ingredients
2 cups peanuts
2 tablespoons oil
1/2 teaspoon salt ( this will vary depending on whether you use salted or unsalted peanuts)
Instructions
Place ingredients into a food processor.
Mix until you have peanut butter.
It may take several minutes of mixing, but it will all of the sudden come together.
We spread this on apples. Place the remaining amount in a bowl. It will separate over time, but a quick stir and it is fine.
Nutrition Information:
Yield:
8
Serving Size:
1
Amount Per Serving:
Calories:

245
Total Fat:

22g
Saturated Fat:

3g
Trans Fat:

0g
Unsaturated Fat:

16g
Cholesterol:

0mg
Sodium:

282mg
Carbohydrates:

8g
Fiber:

3g
Sugar:

2g
Protein:

9g
Nutritional values are approximate and aren't always accurate.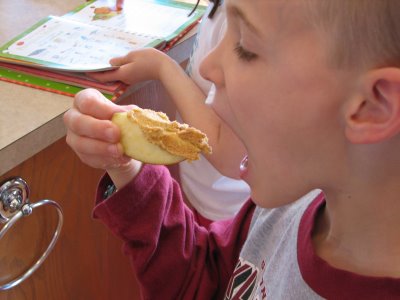 I think this would be good with a little honey mixed in it. I think I will try that and spread it on toast. Yummy!