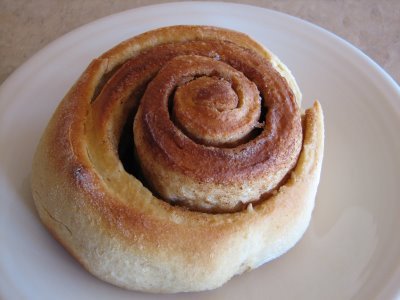 I have a great, rich, and very unhealthy cinnamon roll recipe that I make several times a year. It is the best cinnamon roll I have made, but it is so unhealthy I don't make it often. I will try to post that recipe soon. But for now I have been working on a whole wheat cinnamon roll recipe. You know the kind you could actually eat often without feeling guilty.
I have tried several different recipes and ideas over the last few months. Some were good, but not really good. I want a really good whole wheat cinnamon roll. I want one that my family will like and enjoy. I want it to not seem healthy.
I recently tried making whole wheat cinnamon rolls using my overnight whole wheat rolls. These were by far the best whole wheat cinnamon rolls I have made. They were easy because you make the dough up ahead of time. It was so quick when it was time to make them.
This cinnamon roll recipe is one I can feed my family without feeling guilty.
So here is what I did. I made my overnight whole wheat dough and refrigerated it overnight. The next day I rolled it out. I think the trick to great cinnamon rolls is rolling the dough pretty thin. This gives you more layers of butter, sugar, and cinnamon. I then spread about 1/3 cup soften butter across the dough. Then I sprinkled with cinnamon and sugar. But I don't really measure this part. I think it is about 1/4 cup of sugar and about 3/4 tablespoon of cinnamon. Roll up and slice. Let rise 45 minutes. Bake at 400 degrees for 10 minutes or until done.
For more great breakfast ideas see Happy Housewife.