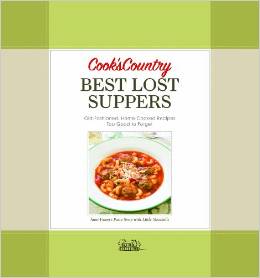 Today's recipe comes from the Cook's Country cookbook Best Lost Supper. I love the Lost Recipes cookbooks that Cook's Country put out a few years ago, so I knew I needed to share a recipe from them for my Cooking Through My Collection Series.
With a recipe title like Cook's Country Glop though, some of you may be wondering what glop is exactly. I know that it does not sound very appetizing, but it is actually an interesting name for a delicious casserole type meal. And I really think the recipe needs to be renamed.
When I was writing this post I looked for a link to the cookbook and realized that it is now only available used. Which is too bad because this is a really good cookbook. The book is full of recipes that were popular years ago. Some have been slightly updated, but overall these are recipes from the past that have often been forgotten about.
I have several of the Lost Recipes books and I love them, so I am sad that these cookbooks are not available new. If you can find one used I would buy it. I think they are cookbooks you will not only enjoy looking through, but cooking from.
When I was writing this post today, my son looked over my shoulder and said, "Mom those pictures did not turn out well." And I have to admit that he is right. These are not the best pictures. I made this for dinner the other night and because it is fall and it gets dark so early, the lighting was terrible. Poor lighting makes food photos challenging. But I really wanted to share this recipe with you today, so I hope you understand the poor photos.
This recipe for Cook's Country Glop recipe caught my attention because it reminded me of a meal I had years ago. Growing up there was a lady in our church that made this cheesy tomato hamburger pasta dish. She would bring it to church meals and she served it almost every time she invited people over for dinner. It was kind of her signature meal, or at least in my mind it was her signature meal. I am sure she made many other things, but for some reason, this meal stood out to me.
So when I saw this recipe, and it sounded a lot like the meal I remembered, I knew I had to make it. And I am glad I did. It really did taste a lot like the meal I remember. It is a great hearty casserole type meal.
And please do not let a title like glop and a poor photo keep you from making this. It really was good.
I did change the directions slightly to simplify them, but overall it is the same basic recipe from the book.
Does anyone else have this Lost Suppers cookbook or any of the other cookbooks in this series? What are your thoughts on them?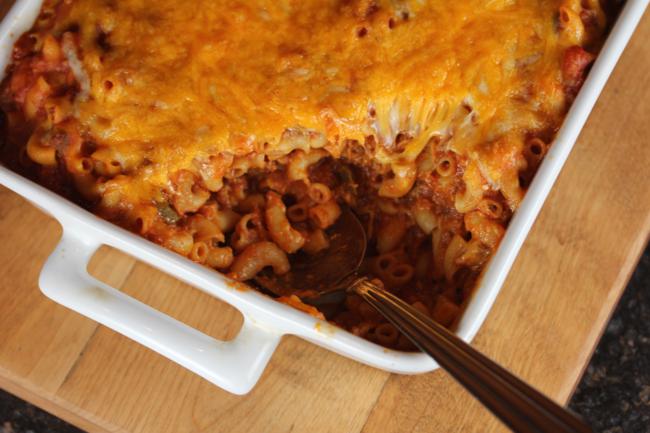 Yield: 10 servings
Cook's Country's Glop Recipe
Cook's Country Glop Recipe
Ingredients
2 cups shredded colby jack cheese
2 cups shredded cheddar cheese
1 pound elbow macaroni ( for gluten free version use gf version)
1 onion, minced
1 green pepper, seeded and chopped
2 tablespoons tomato paste
3 cloves garlic, minced
2 teaspoons dried oregano
1 teaspoon chili powder
1 pound lean ground beef or turkey
1-28 ounce can tomato puree
1-14 ounce can diced tomatoes
salt and pepper to taste
Instructions
Preheat oven to 350 degrees.
Combine cheese in a bowl and set aside.
Cook pasta according to directions. Drain pasta, but reserve 3/4 cup of pasta cooking water.
Toss macaroni with 1 tablespoon oil and set aside.
In a pan cook ground beef with onion and peppers.
Cook until meat is browned and onions and peppers are tender. Drain off any fat.
Add tomato paste, garlic, oregano, chili powder, and stir well.
Stir in the reserved pasta water, tomato puree, and diced tomatoes. Simmer for about 20 minutes. Stirring occasionally until slightly thickened.
Turn off the heat and stir in cooked macaroni and half of the cheese.
Season with salt and pepper to taste.
Pour into a 13x9 pan.
Sprinkle with remaining cheese.
Bake for 15-20 minutes or until bubbly and cheese is slightly browned.
Notes
For the gluten-free version use gluten-free pasta and read labels to make sure that your ingredients are gluten-free.
Nutrition Information:
Yield:
10
Serving Size:
1
Amount Per Serving:
Calories:

425
Total Fat:

22g
Saturated Fat:

11g
Trans Fat:

0g
Unsaturated Fat:

8g
Cholesterol:

96mg
Sodium:

443mg
Carbohydrates:

27g
Fiber:

4g
Sugar:

7g
Protein:

32g
Nutritional values are approximate and aren't always accurate.