During the summertime I love to make quick and easy meals that do not heat up the kitchen.
A few weeks ago when my husband had a meeting, and I knew that it would be just the kids and I for dinner, I decided to make it a chips and dip type of meal.
I knew chips and dip would keep it easy and would be something that my kids would love. However, I also wanted to keep it at least semi healthy, by offering at least one dip that was lighter and healthier than most dips.
This corn and tomato relish worked perfectly. It was easy to make and we all loved it.
And since it is full of fresh ingredients it is pretty healthy, as far as a dip goes anyway. We don't need to talk about the amount of chips I dipped in this healthy dip, do we?!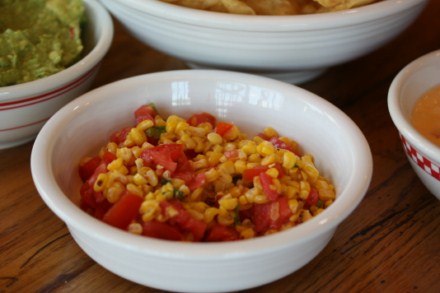 This is best after it has sat for several hours so be sure to plan for that when making it.
Corn and Tomato Relish
1 cup of fresh corn that has been cooked, I used leftover corn on the cob
1 tomato, chopped
1 tablespoon chopped cilantro
1 tablespoon lime juice
1/2 teaspoon salt
pepper to taste
Combine all ingredients in a bowl and refrigerate for several hours. Serve with chips