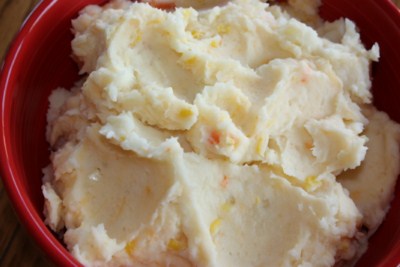 I will admit this is a bit of a strange recipe, but please stay with me on this one.
Quite a few years ago I saw a recipe for cowboy potatoes. The recipe was basically potatoes cooked with vegetables and then mashed. The recipe caught my attention because at the time a couple of my children were in the I don't like vegetables stage. However, they were in the I love mashed potato stage.
Now, I do not usually cater to the food dislikes of my kids. In general they are expected to eat what is served, but I was willing to try this idea if it would help them enjoy vegetables. I changed the recipe and used vegetables that we liked. I also added extra cheese and milk to give it a better consistency.
And guess what? My kids loved it, and they had no idea that these potatoes were full of vegetables. Not only did my kids love the potatoes, my husband and I enjoyed them. These potatoes have become a family favorite.
We eat these potatoes just like this. Personally, I would not serve these with gravy on top. These are more of a potato that I serve as a side dish to steak or chicken. We also like these leftover for lunch the next day.
So, how many of you think this is a strange recipe and that I am crazy for serving potatoes with vegetables mixed in? 🙂

Cowboy Mashed Potatoes
2 to 3 pounds of potatoes, peeled and cubed
12 ounces baby carrots
2 cloves garlic, peeled and cut into several pieces (these will mash up well once cooked)
1 (10 ounce) package frozen white corn
1/4 cup butter
1/4 cup milk (more if needed for desired consistency)
3/4 cup shredded Cheddar cheese
salt and pepper to taste
Place potatoes, carrots, and garlic cloves in a large pot. Cover with water, and bring to a boil over high heat. Cook 15 to 20 minutes, or until potatoes are tender. Add corn the last 5 minutes or so of cooking. The corn just needs to cook for a few minutes. Drain water from pot.
Add butter and milk and mash the mixture with a potato masher (I use my mixer) until butter is melted and potatoes have reached desired consistency. Mix in cheese and the  salt and pepper to taste. Serve and enjoy!
This post linked to
Mouthwatering Mondays
.