Need and easy homemade soup recipe for fall and winter? Crock Pot Carrot Soup is easy and delicious. Cook it all day and have a delicious dinner waiting for you.
I have loved hearing from all of you that are excited about my new soup themed Mondays. I am really looking forward to this series and I am glad that you are also.
My goal with this series is to cover a wide range of soup recipes and ideas. Hopefully, there will be something for everyone.
This series will continue throughout the fall and winter, so if this week's soup recipe does not appeal to you, stay tuned for future recipes. I have a lot of delicious soups planned.
Some of the recipes in this series will be quick and easy, others will be crock pot soups. We will cover hearty soups and some lighter healthier soups. My goal is that everyone will find this series helpful.
Now for today's recipe.
I know Crock Pot Carrot Soup does not sound that interesting, but stay with me on this one. It is really, really good, even for those non carrot lovers out there.
I recently split 25lbs of carrots with a friend of mine. We got them with our last Azure Standard order, and although we love carrots, 12 1/2 lbs is a lot of carrots for one family to eat. So, I had to creative in how I used them.
Some in my family love carrots, others not so much. So, although a few of us would love a soup with a strong carrot taste, others might not enjoy it that much.
I decided that the best way to tone down carrot soup would be to add some potatoes to it. Or really what I ended up doing was tweaking a potato soup by using half carrots. Either way, what I came up with was a soup we loved. It had a slight carrot taste, without having an overpowering carrot flavor.
I love how this adds a little extra healthiness to soup and it gives us a new easy crock pot meal that we love.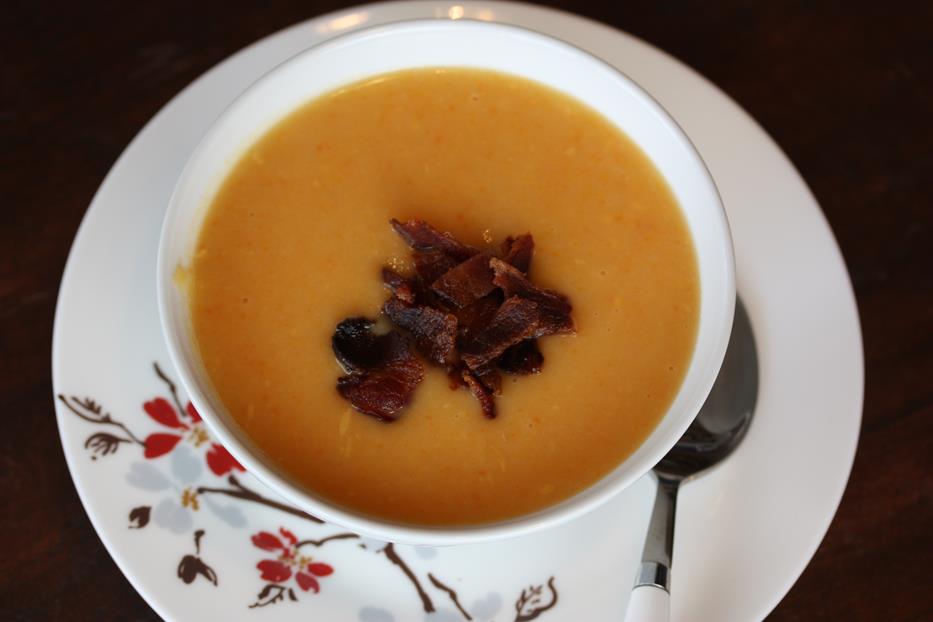 This soup also froze really well. I placed it in the freezer in a container. Then I defrosted it, stirred it well, and reheated it. It made for a great quick and easy dinner last night.
Yield: 10 servings
Crock Pot Carrot Soup
Crock Pot Carrot Soup is easy and delicious. Perfect for fall and winter.
Total Time
6 hours
10 minutes
Ingredients
3 large potatoes, peeled and cut into 1/2-inch cubes (about 2 lbs)
5 large carrots or about 1 1/2 lbs, peeled and cut into pieces
1 large onion, chopped
42 ounces chicken broth (5 1/4 cups)
2 tablespoons butter
1 1/4 teaspoons fresh ground pepper
1 cup milk
1 1/2 cups shredded cheddar cheese
4 slices bacon, cooked crisp and crumbled (optional, but really good)
Instructions
Combine the first 6 ingredients in a 5-quart slow-cooker.
Cover and cook on high for 5-6 hours, or low for 7-8 hours, or cook until potatoes and carrots are tender.
Stir in milk.
Puree soup in a blender or use an immersion blender (be careful putting hot liquids in your blender)
Return to slow cooker and add milk and cheese. Stir until cheese is melted.
Serve in bowls and sprinkle with bacon.
Serve and enjoy!